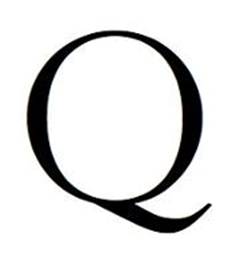 Big Q Reviews
Hamlet
by William Shakespeare
National Theatre Live from London's Barbican
Barbican, Silk Street, London EC2Y 8DS
Screened at the Douglass Theatre, Macon, GA USA
18 October 2015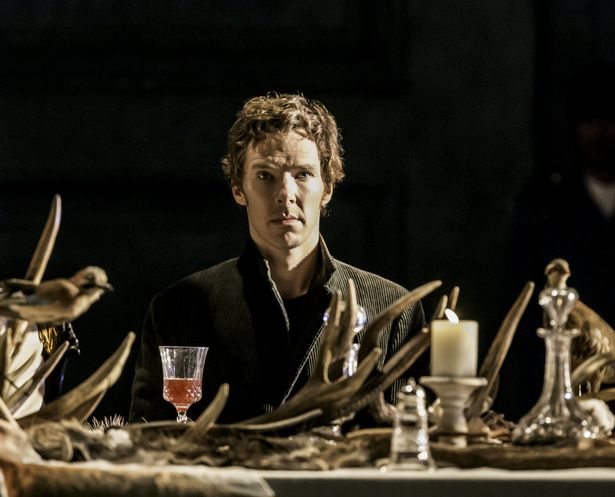 Benedict Cumberbatch as Hamlet. Photograph courtesy of Reuters
Cumberbatch's Hamlet. Hype or Hyperion? That is the question.
As one refreshingly untouched by the media frenzy accompanying recent TV series stars offering their Hamlets for public adulation, this reviewer willingly steps back from the hype to consider Lyndsey Turner's fascinating production. Hailed as our generation's Shakespeare saviors, the Doctor Whos, Sherlocks, and Frankenstein's monsters that grace the twenty-teen Netflix screens add global appeal and star quality in abundance. The apparent purpose of this aggressive marketing ploy? To fill theatres and cinemas worldwide with those attracted to cult personality.
Don't get me wrong. This is not some Luddite rant about art and integrity. Quite the reverse. This stating up front of the purposeful manipulation of a new Hamlet audience fits comfortably with all we know about Shakespeare and his own aggressive capitalist leanings. Would Richard Burbage make a great Sherlock Holmes or Doctor Who? You bet. Would Shakespeare jump at the chance to expand his audience base? Undoubtedly. Perhaps, instead of bemoaning the TV-inspired adulation of our leading actors, we can celebrate the opportunity such adulation offers to inspire young audiences.
The hype now firmly situated in its twenty-first century acceptable place, there remains the play. The following response cannot, of course, fully capture the live theatrical event, other than the dying member of the Barbican audience stage left, whose rasping cough punctuated proceedings with annoying regularity. This response can add to the wealth of online material concerning this production, and its reception in a rural community in north Georgia, USA.
Despite the difficulty of driving the long miles out of Atlanta, and suffering the typical Southern Sunday afternoon malaise after a busy week's work, the audience at the Douglass Theatre ensured the venue was, if not packed, certainly well attended. Young and old sat observing the pre-drama film coverage of the Barbican audience. In a fascinating moment of international non-collaboration, one youthful Georgian, convinced they were watching themselves on-screen, waved nonchalantly at the recorded London gathering expecting to recognize the wave in return. Unlike our theatregoing compatriots, we gained additional insights into the backstage eating habits of Cumberbatch, courtesy of Melvyn Bragg, and a visit to an East London drama academy where youngsters performed "To be or not to be" to their Holmesian hero.
As the theatre lights dimmed, the play began. A film of a theatrical event. A staged recording played as if in realtime. Technically, the potential for production pitfalls abounded. Cumberbatch's hastily taped head-microphone crept snakelike from beneath his hair. Kobna Holdbrook-Smith's Laertes suffered battery-pack radio interference whenever he spoke, and the overall sound quality seemed more 1980s video production than 2015 digital surround-sound. Add to this a fairly restricted selection of camera angles, the tracking shots of one camera seemingly gliding backwards and forwards in the vain hope of getting the "perfect shot", and the overall quality of this NT Live event becomes obvious.
What is remarkable, though, is that these technical problems, these live broadcast limitations, stubbornly refused to undermine the artistic merit of this Hamlet. Despite certain reservations about Turner's casting choices, this reviewer's reaction to the play remains one both positive and inspired. When, then, we see the expanse of Es Devlin's dark and brooding Woman in Black-style set, with its sweeping staircase, heavy chandelier, and candle-flickered corners for intrigue and subterfuge, we know that Elsinore is in a state of flux. Torn between its archaic heritage and corrupt new regime, this Elsinore seems as doomed as the family that rule from its Victorian confines.
The brooding immensity of Devlin's Elsinore design aside, and coupled with the ensemble acting of a tight company, Benedict Cumberbatch must remain the focus of any Hamlet discussion. The opening image, of Cumberbatch propped against a luggage chest, listening to Nat King Cole croon Nature Boy through a teenager's 1950s record player, set the melancholy tone of the play. Reaching inside the chest, Hamlet retrieves a crumpled jacket, still bearing the warlike testosterone scent of his departed father. As Cumberbatch's Hamlet presses the jacket to his face and breathes in the remains of his father's memory, Horatio enters to break the solemn prince's mood.
It is obvious that Hamlet has mixed with an odd crowd at university. Leo Bill's tattoo-encrusted Horatio, a Where's Waldo woolly-capped hipster whose rucksack seems surgically sewn to his back, seems an unusual choice for a prince as friend. Unless Hamlet is intent on upsetting his aristocratic applecart, this Horatio appears more a doting lackey than a confidant. The same applies to Rosencrantz and Guildenstern, played effectively by Matthew Steer and Rudi Dharmalingam, whose gauche mannerisms and clumsy courtesies sit uncomfortably among the easy power of Elsinore's court. When Rosencrantz and Guildenstern first encounter their princely college chum, Hamlet dressed like an ornate wooden soldier and playing in a child-size playcastle, their reactions are those of wonderment and bemused acceptance. This seems no different than the childish pranks they obviously left behind in Wittenberg.
Hamlet's madness allows Cumberbatch to explore the character's teenage angst and anger to the full. The troubled prince carries his ineffective rage with adolescent impotence throughout the play. This is a dangerous Hamlet on many levels. Cumberbatch can weep, can explode, can self-flagellate, can remonstrate with his inactivity. At all times, though, we see the humanity – the Nature Boy – in Cumberbatch's performance. This human emotional journey of a flawed man, whose upbringing and familial expectations have nurtured not military prowess, but petulant disregard for authority, is effective and moving to observe.
The madness that Hamlet feigns or succumbs to seems already manifested in his early grief. When, then, this Hamlet meets his father's Ghost, madness seems as inevitable as it does futile. The magical staging of Karl Johnson's haunting Ghost, owing much to Jane Cox's lighting design, becomes more horrifically effective when Hamlet's father displays the tettered scars of the poison on his torso. Reminiscent of wartime footage of General Montgomery rallying his Desert Rats in the North African campaigns against Rommel, Johnson's clipped delivery suggests an absent military father whose image outweighed his sensitivity toward his son. When later Johnson returns as a Northern English gravedigger, the same nonchalance towards his interrogator informs the humor of the scene. Karl Johnson is earthy, whether as mole-like spirit or skull-tossing excavator.
As Hamlet's mother, Anastasia Hille presents a Gertrude seemingly ill-at-ease as royal queen. Her earlier appearance, as a newly-married sophisticate eager to please husband and court, juxtaposes with Gertrude's later emotional fortitude when confronted by her son's madness, Ophelia's suicide, and the collapse of trust she feels for her spouse. Hille's journey, and her heartfelt pleas, ensure that her death, elsewhere often offering no more than dark humor and unwarranted comic relief, becomes a tragic side-narrative to the all-encroaching corruption of Elsinore's detritus-strewn court. Hille's emergence as a strong, believable character, is aided by the nuanced machismo of Ciarán Hinds's Claudius. Hinds commands the stage like a malevolent lounge-lizard, plotting and conniving with political ease. The perfect stage villain, Hinds adds a frisson of sexual malice to his Claudius that ensures Hamlet's low opinion of his mother's bedmate choice.
Jim Norton's Polonius is dutifully pedantic, the verbose adviser's purpose in court a throwback to the previous regime. Polonius's death behind the arras, in this instance the curtains of a neo-Baroque miniature stage for The Mousetrap enactment, is bloody and effective. All these moments paled into insignificance, however, when compared with the wondrous narrative evident in Sian Brooke's poignant Ophelia. From our first sight of Ophelia, dining at the belated wedding breakfast table, we see a troubled young woman. In her royal finery, this Ophelia looks out of place, a humble amateur photographer and recluse, perpetually manipulated by her male overseers. The potential for manic self-harm informs Brooke's later choice for the infamous mad scene. Rather than a set-piece transition moment when an Ophelia actor is forced uncomfortably to sing, the madness became, in Brooke's hands, a frantic, frenetic exploration of fear and self-loathing, compounded by the clumps of hair missing from her precious scalp. Sian Brooke touches an emotional reality with her Ophelia that crosses an astonishing dramatic boundary. Ophelia has already shown the potential for madness. Her death is nothing more than painfully inevitable.
Lyndsey Turner has directed a fine Hamlet that fulfils its function as a vehicle for Benedict Cumberbatch and for the National Theatre's ambitious international plans. The company is, on the whole, strong and effective, though certain cast members seem less comfortable in their roles. As a theatrical event, this Hamlet cannot be surpassed. Even filmed and projected for an audience around the globe, Cumberbatch's Hamlet still astounds and enthralls. Cumberbatch is a worthy new Hamlet, his machismo dynamism adding threat and danger to the role. It is Ophelia, however, who touches the human chord of the production. Nature Girl, rather than Nature Boy, should be this Hamlet's Nat King Cole theme.
Big Q Reviews
© Kevin Quarmby, 2015
Company:
Danish Soldier / Norwegian Soldier: Barry Aird
Captain / Servant: Eddie Arnold
Horatio: Leo Bill
Ophelia: Sian Brooke
Cornelius: Nigel Carrington
Player King: Ruairi Conaghan
Hamlet: Benedict Cumberbatch
Guildenstern: Rudi Dharmalingam
Priest / Messenger: Colin Haigh
Fencing Official: Paul Ham
Player Queen / Messenger: Diveen Henry
Gertrude: Anastasia Hille
Claudius: Ciarán Hinds
Laertes: Kobna Holdbrook-Smith
Ghost / Gravedigger: Karl Johnson
Polonius: Jim Norton
Stage Manager / Official: Amaka Okafor
Barnardo: Dan Parr
Courtier: Jan Sheperd
Voltemand: Morag Siller
Rosencrantz: Matthew Steer
Fortinbras: Sergo Vares
Marcellus: Dwane Walcott
Director: Lyndsey Turner
Set Design: Es Devlin
Costume Design: Katrina Lindsay
Video Design: Luke Halls
Lighting Design: Jane Cox
Music: Jon Hopkins
Sound Design: Christopher Shutt
Movement: Sidi Larbi Cherkaoui