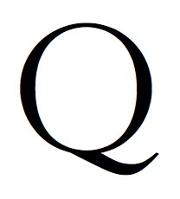 Big Q Reviews
The Malcontent
by John Marston
Custom/Practice and Graffiti Productions
The White Bear Theatre, Kennington, London
22 November – 11 December 2011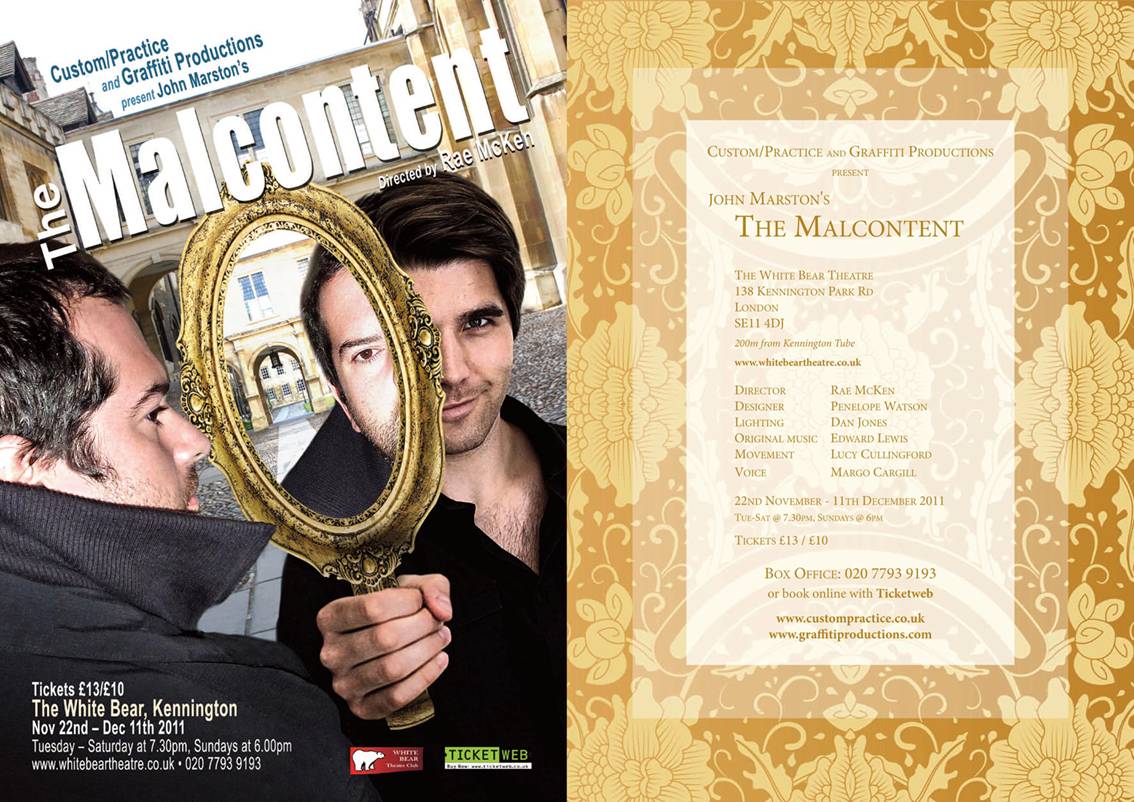 John Marston's The Malcontent is gloriously revived at the White Bear Theatre, Kennington. This tiny pub venue, the traditional host of so many obscure early modern plays, is transformed into a Genoan ducal palace for the fast-paced ninety-minute production. Penelope Watson's stylish set, complete with marbled floor, chandelier lighting and secretive entranceways, complements Rae Mcken's precise and focused direction.
All the low-life aristocrats that Marston so obviously loathed in his own society people this Genoan palace. Courtiers who sell their wives for profit and advancement. Panderesses who teach married women how to ply their sexual charms. Lusting gallants who seek the adulation of their mistresses. Duplicitous machiavels who make murderous plans to usurp their superiors' powers. All are brought to colourful life in this fast-paced romp into the sexual underbelly of a pseudo-Italian court.
Genoa has a new Duke. Pietro, played with a Scouse lilt by Lorenzo Martelli, is a parvenu ruler who owes his status to a fortuitous marriage and underhand dealings. By welcoming Aurelia, a Medici by birth, into his marital bed, Pietro has planted the seed of his own destruction. Aurelia (Rebecca Loudon) is no saint. She is bedded and wooed by the Genoan courtiers, principal among whom is Mendoza, played with rugged bravura and arrogant menace by Gershwyn Eustache.
Where there is a usurper, there is a usurped duke. This is Altofront, the legitimate ruler who has returned to court in disguise to avenge his loss of power, and the imprisonment of his wife in a nearby castle. Altofront takes on the persona of Malevole, a railing cynic, whose cutting comments are more currish than clownish. Through the power of his bitterly incisive tongue, Malevole holds a broken mirror to the moral decay of the Genoan courtiers. In the process, greed, sycophancy and sexual deviancy are all exposed.
There is, after all, rather a lot to expose. Maquerelle, a despicable harlot and procuress whose lust is only matched by her seductive malice, rules the night-time court supreme. Maquerelle will supply the needs of all sexual tastes, no matter how warped or debasing. Shanaya Rafaat is superb as the siren turned suburban drab whose care of her young female charges is fired by an all-consuming Sapphic lust.
Bianca (Susie Potter), wife of the outrageously mannered and beautifully judged Bilioso of Richard Kiess, is herself from lowly stock. Under the direction of Maquerelle, Bianca becomes a commodity both of her procuress and her husband. When eventually Bianca escapes the clutches of both, this young temptress shows her strength and her integrity, though ultimately also her powerlessness.
The Malcontent belongs, however, to Malevole/Altofront's disguised characterization. In the hands of Adam Howden, this complex character comes fully to life. Howden's rugged good looks suit the rural West Country persona of the foul-mouthed malcontent, Malevole, as well as the educated and calm revenger of Altofront. The journey from disguised duke to acknowledged ruler is fraught with danger. Howden guides us comfortably on Malevole's journey to regain power and expose court corruption.
The Malcontent is a fascinating and evocative glimpse of London society in the early 1600s, wrapped in an Italianate fantasy that owes much to European taste for the new generic form, tragicomedy. How far it influenced, or was influenced by, Shakespeare is open to debate. What is obvious from this vibrant and sexy production is that Marston's play is as funny, as raunchy and as gripping today as it was over four hundred years ago. A strong cast, witty design and costumes, and intelligent reinterpretation by a committed director brings this rarely played drama to glorious life.
Big Q Reviews
© Kevin Quarmby, 2011
http://www.custompractice.co.uk/the-malcontent-winter-2011/
Cast list:
Adam Howden: Malevole/Altofront
Boris Mitkov: Ferneze/Captain
Gershwyn Eustache: Mendoza
Lorenzo Martelli: Pietro
Matthew Gibbs: Ferrardo
Rebecca Loudon: Aurelia
Richard Kiess: Bilioso
Rupert Charmak: Count Celso
Shanaya Rafaat: Maquerelle
Susie Potter: Bianca/Maria
Director: Rae Mcken
Designer: Penny Watson
Sound Design: Edward Lewis
Lighting Design: Dan Jones
Movement: Lucy Cullingford
Voice: Margo Cargill