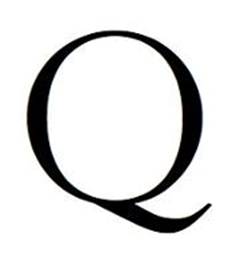 Big Q Reviews
The Women of Troy
after Euripides
The Lazarus Theatre Company
Blue Elephant Theatre
59a Bethwin Road, Camberwell, London SE5 0XT
www.blueelephanttheatre.co.uk
20 March – 14 April 2012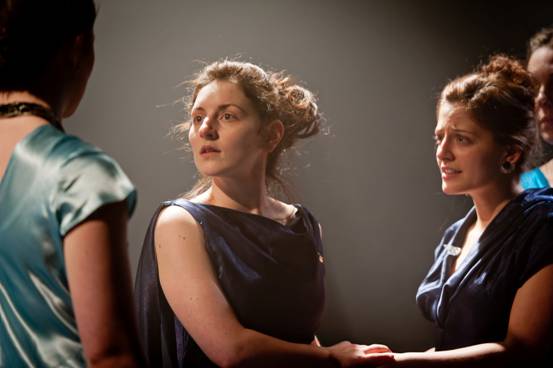 Alice Brown as Hecuba and Ina Marie Smith as Andromache in The Women of Troy (Photograph by Adam Trigg)
An octagonal platform dominates the central black box acting space of the Blue Elephant Theatre. All is painted a dull, post-apocalyptic grey. Harsh spotlights pierce the fog-fuelled air, their biting glare searing through the soul as the audience await the onslaught of Euripides' intense tragedy. The simple elegance of the setting offers scope for classically inspired groupings of actors. Figures form triangular visual tropes, as stylized as the dramatic narratives they utter. The scene is set for an evening of unusually strong and emotive theatre.
Sixteen female actors, their bodies uniformly attired in silken ball gowns, their hair tied up and their bodies bedecked with jewels, enter the space and mount the platform. Rhythmically, and with a pulsating orality that hauntingly evokes the pain of capture, these aristocratic women announce the horror of their plight. The Trojan army is defeated. Their menfolk murdered and their homes ransacked. They are left. An elite assortment of womanhood, branded and bartered like cattle, presented as the spoils of war to the officers and men of the victorious Greek army.
Alone in their midst stands Hecuba, King Priam's queen, now leading her surviving court on a sorrowful journey into enforced exile and slavery. This queen has seen her sons and husband cruelly slaughtered. Watched as her city is ransacked by Greek soldiers baying for blood and aroused with lust. How can she cope with her own loss and that of her followers? How far will her regal training offer sanctuary from the humiliations that await her?
Humiliations there certainly will be, as the Greek commanders conceive the most degrading punishments for the wives and daughters of their enemies. No possible escape, just the bitter sorrow of absolute defeat and subjugation, and the horrific pain as children – the inheritors of the Trojan bloodline – are systematically slaughtered in an act of precision genocidal social engineering.
Ricky Dukes has directed an astonishing interpretation of Euripidean tragedy at its most cathartic. The evening's powerful imagery is evoked by a cast of actors whose commitment to their roles, and to the unfolding bloody narrative, never wavers. Led by Alice Brown's majestic Hecuba, these ladies-in-sorrowful-waiting express their horrific tales with an intensity rarely seen in contemporary British drama.
The production benefits from the superb lighting design of Alex Musgrave, whose eye for detail conjures multiple worlds and spaces in the narrow confines of the studio. Similarly, Nick Kent's disturbingly atmospheric sound design, sometimes piercingly painful, at other times ominously metallic, complements the sense of claustrophobic nihilism as the story unfolds.
'Claustrophobic nihilism' might imply a certain negativity about the play. Nothing could be further from the truth. Rather, this same nihilism offers as its glorious juxtaposition the spine-tingling finale, where the serried ranks of Trojan women chant defiantly as they are led to servitude and sexual exploitation.
The Women of Troy is a memorable production in so many ways. Great performances, especially from Brown, and from Ina Marie Smith as the distraught Andromache, forced to endure a violent and invasive abortion, add to the overall quality of this swift-paced, seventy-minute play. Lazarus Theatre Company deserves every priase for staging classical and early modern drama with style and panache. The Women of Troy adds to their repertoire of plays a uniquely powerful, painfully uplifting theatrical experience, strangely congruent with our own troubled times.
Big Q Reviews
© Kevin Quarmby, 2012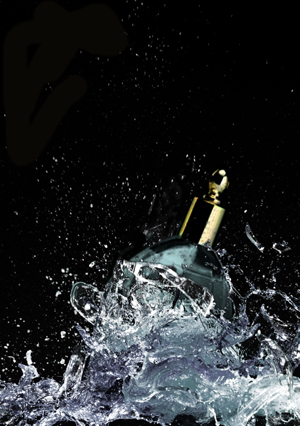 http://lazarustheatrecompany.webs.com/thewomenoftroy.htm
CAST:
Hecuba – Alice Brown
Cassandra – Kerrian Burton
Andromache – Ina Marie Smith
Helen – Neusha Milanian
Athena – Gemma Beaton
Bertrand – Cate Myddleton-Evans
Collette – Rayanna Dibs
Francesca – Laila Alj
Hope – Emma Jane Richards
Adriana – Meriel Rosenkranz
Madeline – Jaclyn Bradley
Rosanna – Jennifer Haynes
Abigail – Lauren Garfitt
Marianne – Victoria Porter
Emilia – Jessica Hay
Hero – Ruth Petersen
CREATIVES:
Directed and Designed by Ricky Dukes
Associate Director – Gavin Harrington-Odedra
Movement Director – Julia Cave
Lighting Design – Alex Musgrave
Sound Design – Nick Kent
Costume Design – Emily Stuart
Assistant Director and Dramaturge – Bobby Brook
Assistant Director – Sophie Gilpin
Production Manager – Nick Kent
Production Graphic Designer – Will Beeston