"Sophie Lifschutz's production has a sustaining narrative tension and Jack Klaff as Mansfield, Kevin Quarmby as the coroner, Helen Worsley as Dick and Brendan Foster as a surveillance officer all give good performances." (Review of Stockwell, Michael Billington, The Guardian, 24 July 2009)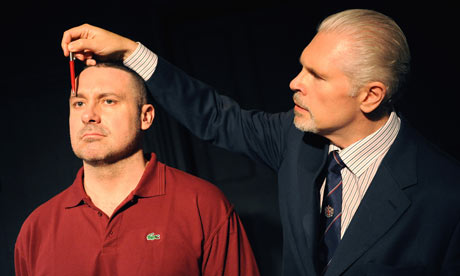 Sustained tension ... Alex Tanner and Kevin Quarmby in Stockwell. Photograph: Tristram Kenton
"Director Sophie Lifschutz has dramatised the play with shifts of lighting and music as different witnesses take the stand, lifting what could have been difficult viewing of solid evidence into a fascinating piece of theatre. The set is plain, just chairs on a bare stage. The performances are polished and impressive, whether it's Jack Klaff's intelligent barrister with his slightly crouched stance and wild white hair, whose penetrating questioning unravels any attempt by the witnesses to cover up the truth, Helen Worsley's stockily correct career senior policewoman or
Kevin Quarmby's thoughtful and meticulously attentive judge."
"What is special about the play Stockwell is that it shows how this tragedy happened rather than merely allocating simple blame to caricature trigger happy policemen. One of the men who had shot de Menezes cried openly at the inquest. It analyses and comments making suggestions for future operations to improve public safety whilst never losing sight of the drama, the events of which will continue to whirr away in the minds of the audience. This play has all the facts of a documentary but never forgets it is also theatre." (Review of Stockwell at the Tricycle Theatre Kilburn by Lizzie Loveridge, CurtainUp London, 10 September 2009)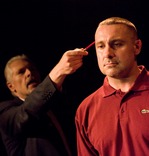 Kevin Quarmby and Alex Tanner
(Photo: Benjamin Ealovega)
"Stockwell Dramatic Theatre at its Best"
" This is truly thrilling theatre - a powerhouse production that is unmissable."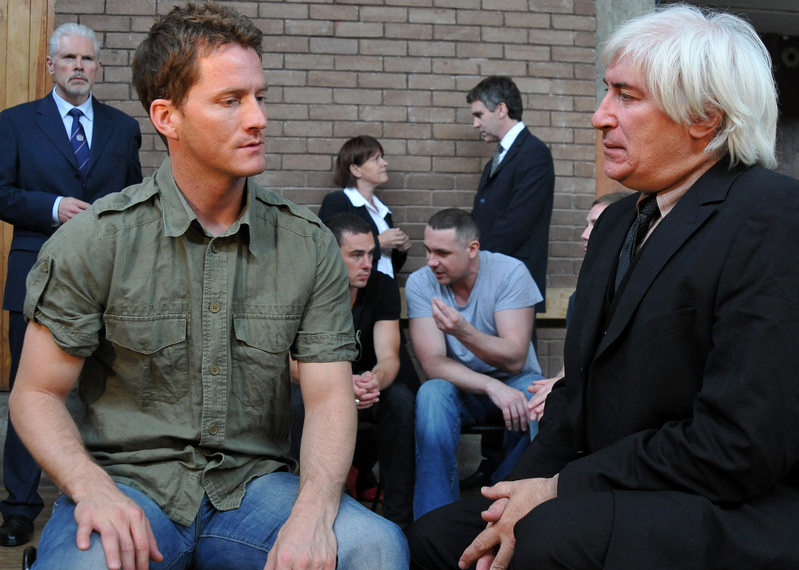 Brendan Foster and Jack Klaff foreground the Stockwell 'tribes'. Photograph by Steve Ullathorne.
"An ensemble cast of eight actors play over thirty parts in this powerful stage drama re-enacting the last few hours of the court verdict in the Stockwell inquest.The [...] Lifschutz staging of the trial unfolds the story in a way that both touches the emotional gravitas of the victim's tragedy and the chaos and confusion of the police."
"Stockwell's Superb and Brilliant Staging"
"The strength of Stockwell is the fluidity of the groupings of the "tribes" which create the conflict in this monumental catalogue of mistakes that lead to the fatal killing of the innocent young man. Jack Klaff plays Michael Mansfield QC interrogating on behalf of the Menezes family, he also takes composite lines from the other lawyers. Klaff commands the stage with deft authority, holding to account Commander Cressida Dicks (played with an obdurate stance by Helen Worsley) and police officers with ruthless precision. In the same grouping Kevin Quarmby plays the coroner his clarity of characterisation giving incisive support to fresh information. [...] Every member of the ensemble cast delivers impeccable performances balanced in the hands of Sophie Lifschutz's direction which moves the characters like interchanging pieces on a chess board."
(Review by Nina Saville, 'British Modern Theatre' in Suite101.com, 11 September 2009)

Radio 4 Broadcast 'Today' Programme, 21 July 2009
'Play depicts Stockwell tube tragedy,' By Danny Shaw, BBC Home Affairs Correspondent
"Stunning! Kieron Barry has put together a chilling dramatic play [...]. It is a powerful and moving piece of drama, deftly directed by Sophie Lifshutz, and all the more chilling, of course, from being based on fact. All the actors play their parts extremely well, but particular mention should go to the magisterial Kevin Quarmby as the coroner." (rds -- Reader Reviews, whatsonstage.com, 9 August 2009)