Stockwell: The Inquest into the Death of Jean Charles de Menezes, created by Kieron Barry from the inquest transcripts and directed by Sophie Lifschutz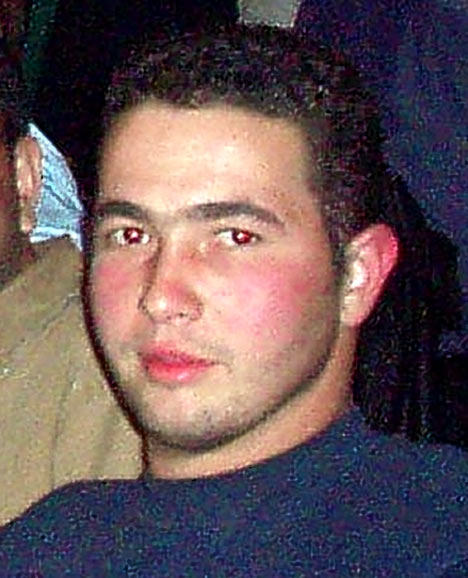 Tuesday 21 July - Saturday 8 August 2009
They think it is him and he is very, very jumpy...'
Opening exactly four years after the events of 22nd July 2005 that culminated in the tragic death of the innocent Brazilian Jean Charles de Menezes, 'Stockwell' runs just a few hundred yards from the scene of the shooting. Weaving together the diverse voices of the inquest's many witnesses, 'Stockwell' is an urgent and compelling verbatim work that charts the desperate acceleration towards one of the most controversial moments in the history of the Metropolitan Police.
In addition to exploring the sequence of events that lead to the fatal shooting, the play also paints a vivid portrait of a city still in shock from the suicide bombs of previous weeks and a jittery and overstretched police force agonizing over its methods and ability to prevent further terror.
Landor Theatre
Transfer to the Tricycle Theatre, Kilburn, London, September 2009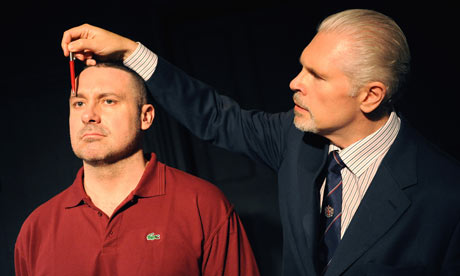 Alex Tanner as C12 and Kevin Quarmby as the Coroner, Sir Michael Wright, in Stockwell: The Inquest into the Death of Jean Charles de Menezes
Reviews:
5* The Times,The Guardian, The Telegraph, The Financial Times, The London Paper
Critic's Choice in Time Out London
Transfer to the Tricycle Theatre Kilburn, September 2009
Excerpts from rehearsal and performance blog.
DAY 1: Rehearsals 30/6/2009. I arrive at 2A Stormont Road in Clapham, just off Lavender Hill. 2A is the Devas Club, a 1960s concrete youth and sports complex that is cool and airy, a welcome relief from the sub-Saharan heat of London's streets. Directed to the basketball hall upstairs, I meet several other members of the company, all looking, like me, dazed and unsure. The stage has already been mapped out in schematic form with tape on the floor and ten chairs have been arranged in what at first sight appears a haphazard pattern although each is meticulously marked by Heather Rose, the Stage Manager.
Kieron Barry has based his play on the transcripts of the court trial. The designer, James Perkins, explains that Barry's play seemed to require eleven separate locations. Since the Landor Theatre, a pub fringe venue, is a long oblong space with audience seating on two sides of a squat 'L', Perkins tried several permutations of arranging the chairs he had chosen for the design, electing eventually not to follow a straightforward courtroom arrangement not an exaggerated diagonal which would play as a thrust. Instead, the arrangement of the chairs would be of two diagonals, one arranged on top of the the other.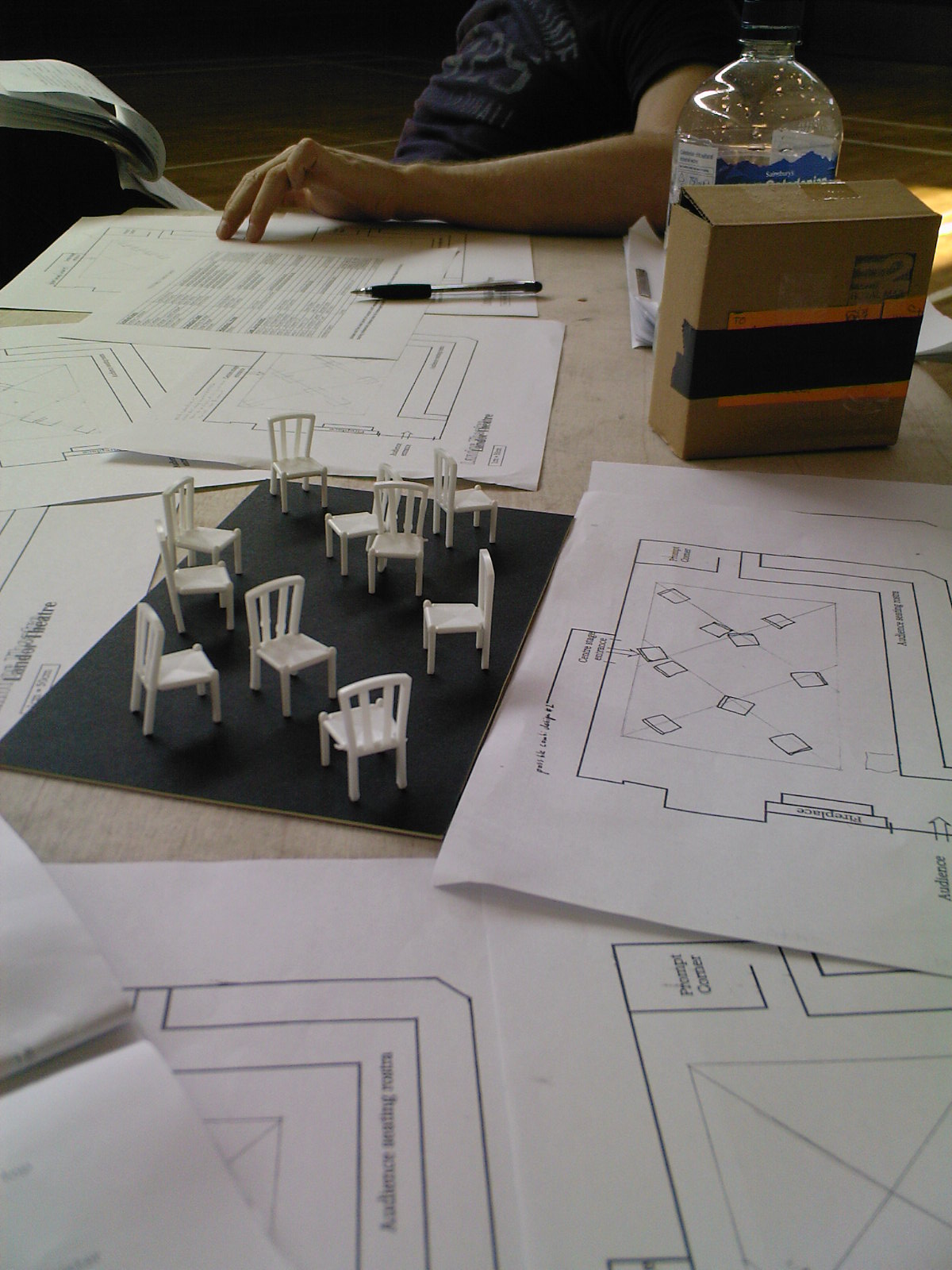 We are reminded how the events that the play dramatizes are in reaction to an extraordinary two week period that followed what has become known as London's 7/7 Bombing Campaign. Things were pretty hectic in the aftermath of this atrocity; there was a Blitz mentality, a strong sense of community and heightened anxiety. Functioning within this context of fear and anguish, the set seeks to create a world full of individual shapes, with lighting demarcating the various areas, whether formal inquest courtroom, relaxed abstract ' home', or scene of horrific death in the underground train carriage on Platform 2 of Stockwell Station.
DAY 2: 1/7/2009: Morning, and another unbelievably hot day forecast for London. Murray playing his quarter final and we are back in Devas Club. Still, the good news is this place is cool. Concrete can have its advantages. In the morning we access a computer (without any sound card) and watch the harrowing, silent footage attached to the BBC News Special Report on the day's events of 22 July 2005. Harrowing because of the detail, the CCTV footage and the very matter-of-fact way that it is laid out with easy-to-follow graphics. As a PR exercise, the BBC coverage is faultless and, presumably, vitally necessary.
DAY 3: Rehearsals, 2/7/2006 I have to dash over to the Brady Arts and Community Centre in Tower Hamlets to cover a talk by Trevor Phillips (CEHR) who is famous for challenging the ideals of multiculturalism and considers the role of diversity in contemporary society. As an honorary fellow of the Open University, he is especially interested in delivering an education to those who, because of the social background, are excluded. This talk is prompted by the 40th anniversary of the formation of the Open University.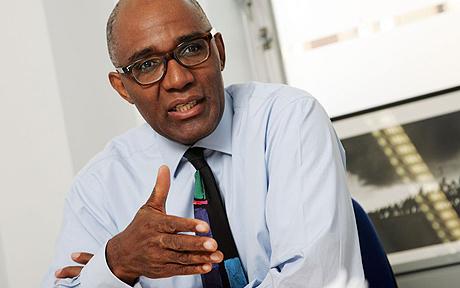 It seems no coincidence that, 40 years on from Harold Wilson's vision to create a university which countered the idea of a 'working-class university for working-class men and women,' discussion now is how to get those minorities who are traditionally removed from the education system into academic study. More importantly, however, seems the need to fund this move. I sit next to a fascinating sufferer of MS, wheelchair-bound, who is studying law with the OU. His disability allowance, and the fact that his wife works, precludes him from any assistance to take his degree. The annual bill of £2000 to study for a degree which could take ten to twelve years part-time seems exorbitant. Unless government funding is forthcoming, however, the 'diversity' initiative will, by default, be funded by increasing the course costs to students such as him. A vicious circle so it seems.
Dash through the tropical heat to Clapham and rehearsals. We work through the play from the beginning, experimenting with blocking and generally getting the feel for the piece.
Next week we have an ex-policeman-turned-actor, Richard Woolnough, coming in to brief us on the various technical and procedural matters we need to know. Even more interestingly, we are booked to rehearse and be recorded by Radio 4, under the watchful eye of Brian Paddick, the following week. Paddick's interest adds a great deal of weight to the integrity of the project. It will be fascinating to have his input.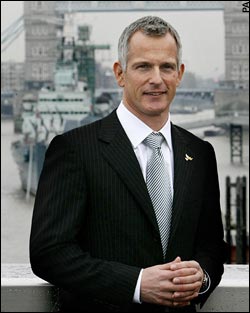 We continue through the first third of the play and then, after almost fading in the afternoon heat, wend our ways home. Very excited by the prospect of getting this on its feet. When I get home, there's a message asking if I'd be willing/able to give a lecture at King's College London on The Alchemist by Ben Jonson. It needs to be given the morning of the 20 July, the day before we open and the first day in the venue. Bravely (or foolhardily) I accept the task and actually feel very calm about adding this to my schedule. My I have changed. Nothing seems to faze me now.
DAY 4: 3/7/2009 Today, we meet on a cloudy muggy morning. There is a real heaviness in the air. I check the internet for the transcript of the enquiry which is interesting as a way of painting an overall picture of the actual events. Also interesting to note that Brian Paddick actually gave evidence at the inquiry as to normal procedure. He was not actively involved in this specific case, but he was called to give evidence as to what should have occurred -- or what might reasonably have been expected to have occurred -- in the circumstances.

As a group, we are getting closer and closer, although the limited length of rehearsal time is already beginning to frighten us.
Afternoon, we continue with rehearsals, slowly blocking each scene. A South London Press photographer arrives to take rehearsal shots. He snaps a few of the director, then positions himself around us, only to slide out without saying goodbye. Some of us don't even know he has gone. The evening, a little light relief reviewing a production of Aphra Behn's The Rover at Southwark Playhouse. Very energetic and great fun despite feeling tired and drained.
DAY 5: 6/7/2009. A fascinating though tiring day. This morning we started with a movement call to try and grill some unity into this diverse group of actors. Unity? Within only twenty minutes, we were moving around the rehearsal space like a shoal of particularly sensitive fish, responding to each other's movements and sensing in an uncanny way what our neighbours were intending to do. Really reassuring to know that we have already bonded so well together.
A photographer arrives with a very professional portraiture set-up. We are arranged into various groupings and scenes. Rehearsals, then in the afternoon our ex-policeman came to advise us. Ex-policeman hardly does justice to someone who has served as a firearms officer in the Royal Ulster Constabulary. This was the real thing, and we listened in respectful awe as he explained duties and expectations without once making us feel that we were inferior because we are 'playing' the roles.
DAY 6: 7/7/09. Today, I am very aware that the memorial to those who died in the 7/7 London bomb attacks is being officially opened in Hyde Park. From the Radio 4 news reports and the BBC news on the web, I can see this is a very moving and fitting celebration both of people's lives and a permanent reminder that, as one woman said, her mother actually lived.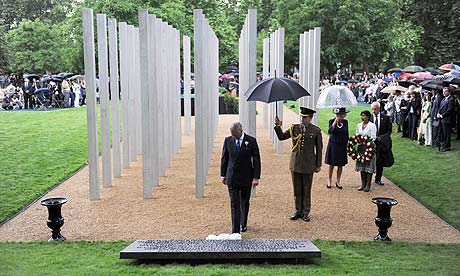 In rehearsals, and despite the pressure, we are all united. The project is far too important for egos to take over. A real sense of teamwork and a real sense of 'duty' to the subject-matter. Roll on tomorrow. As we leave the rehearsal rooms, the heavens open in a most violent thunder and hailstorm.
DAY 7: 8/7/09. Arrive on a blustery and wet morning at rehearsals. Such a change form last week. Everyone is good-humoured and we work solidly until lunchtime. I cannot stress enough how important I believe the coroner, Sir Michael Wright, must have deemed Mansfield's presence as a rottweiler, capable of getting to the bottom of a complicated case. There was obviously great respect for the man. I am sure that, if I had been the coroner and was told that Mansfield was representing the family, I'd have rubbed my hands in professional and intellectual glee.
After lunch, Shaun tells us of an availability check for a well-paid commercial job in Belgium. Unfortunately it coincides with our last three performances. We treat it lightly, though deep in our hearts we hope he doesn't accept. It would be devastating to lose one of the team. That's the reality of jobbing actors; sometimes there is no work and sometimes jobs flood in all at once. An unenviable dilemma.
DAY 8: 9/7/09. We have a duty to remain absolutely faithful to the script, especially as it is an inquest transcript. There is so much at stake for all concerned over the semantics of who was told what and when that we realised right from the start that unless we were word-perfect, we would be doing an injustice to the truth and to the people involved. Tomorrow a stagger through for light and sound designers. It will be interesting to see/hear it in its entirety.
DAY 9: 10/7/09. This morning, we stagger through the play. It was good to have a real audience for the first time. Members of the design and production staff were present to watch what we had achieved so far. Afterwards, I realise how important it is for my character to receive respect and authority from the other members of the company, otherwise Sir Michael becomes a story-teller rather than an active participant.
After lunch, we go through about ten separate pages which have been requested by the BBC Radio 4 team who will be here on Monday morning with Brian Paddick. They want to see a run of the play, and then to choose the relevant passages for recording. We noted that the journalists had requested very specific and particularly emotive moments that will make great radio. All very exciting.
DAY 10: 13/7/09
Today, Radio 4 come and record the whole play. They are making a short news item most likely to be played on the Today programme the morning of 22 July. Brian Paddick sat in with his laptop, taking notes. The poor sound operator placed a backup recorder on a chair and then stood in the centre of the circle of chairs going from actor to actor as we read through the entire script. An exhausting job for him but very useful for us.
Afterwards, the publicity agent from Mobius PR said that Paddick's comments to tape were very positive. She also said that the Guardian were running a picture and piece in their Saturday magazine.

DAY 11: 14/7/09
Things are a bit difficult at the moment as many people, including myself, are unavailable for certain hours of the rehearsal time over the next couple of days. Unpaid gigs always suffer from these setbacks. Still, there is such a good feeling about this production that everyone is making a huge effort to be there even when they have not necessarily been officially called. Costume email received last night. We have to let the designer know what clothing we have and what we need. Sir Michael is a suit and tie man. No difference between him and me there then. Tomorrow, we should get to see the Landor for the first time. Really exciting.
DAY 12: 15/7/09. Run through in the morning with the sound engineer present. This afternoon, move over to Landor Theatre and a chance to see the space.
DAY 13: 16/7/09. The Landor. But it doesn't open its doors until 12 midday, when the bar opens. So, the best place is the Buena Vista cafe up the Landor Road which serves the best coffee and tapas and which has opened its welcoming doors to a motley group of actors as an impromptu rehearsal place. While teas and coffees are consumed, innocent punters are forced to listen to various cross-examinations and descriptions of shooting. Into the Landor and a stagger/run. Loads of work to do, but at last we feel as if we are in a real venue and achieving some intense work, especially under the boiling hot lights. Two air-conditioning units (an overworked third has obviously flooded leaving water stains down the black back drapes) valiantly kick into action but it is still 'warm' beneath the low lighting rig, especially as there are no 'workers' (lights used just to work or rehearse by) in the space.
DAY 14: 17/7/09. 10 o'clock and our regular coffee venue, then into rehearsals by twelve. The chairs arrive and we also try on a number of costume purchases. BBC London News are doing a piece on us and we have to attend a call at midday Monday, two hours to record what will perhaps be only a couple of minute news item. Still all good publicity. We work very hard, only snatching a half-hour break at lunchtime and working on till six.
DAY 15: 18/7/09. The coffee bar is now home from home. This is a really 'cuey' play and there are so many times that dialogue appears as if out of nowhere. With help, I construct a visual means of accessing the right words, such as, if the previous speech contains the words 'Stockwell' and 'Scotia Road' then that provides a visual image of '5' and '5', which leads to the cue, 'At 9.55...' Similarly, 'too many cooks' makes me think of heavenly cooking, heaven rhymes with '7', so 'At 9.47...' Listen, don't knock it, it works for me!!
DAY 16: 20/7/09. A midday call to meet Brenda Emmanus of BBC London News. We perform certain key scenes from the play whilst a handheld camera weaves amongst us. After about an hour's work we are dismissed, although not before Brenda Emmanus conducts an interview in the pub garden which includes my comments that this play reflects the tragedy for ALL concerned, whether family or police participant. See it at BBC London News.
We return in the late afternoon, all cramming into the tiny male dressing room to run the lines just for ourselves. A vital exercise. Then, at around seven, we start teching the play. If somebody has never experienced a 'tech' they will not understand the level of concentration and good humour required. This, as we were told, is not our (actors') time but the technicians' time. Lights and sound cues are adjusted and altered, difficult process made much easier in recent years with the advent of computers. Lights can be brightened or darkened 5% or 10%, sound levels can be reprogrammed. We have nothing but respect for the technical crew who do all the really hard work during these long hours. As lights are adjusted and actors positioned to create the right visual effect, the designer, paintbrush in hand, adds a new grey colour to the floor. We finish just before ten, and are called to continue the tech tomorrow at one o'clock.
DAY 17: 21/7/09. We arrive to continue teching the play. When we eventually finish, there is a general sense of achievement. The technicians have worked so very hard and the result is an amazing lighting rig and sound design which add enormously to the quality of the drama. Heather, our resident stage manager, will sit at the desk to the rear stage left of the studio for the entire performance, cueing in the lights and sound. We have nothing but respect for her, especially considering the pressure she is under. Certainly one of the unsung heroes of any production.
Dress rehearsal slightly more difficult because our publicity photographs are being snapped throughout the process, plus we didn't know till we got into swing that a reporter from Radio London News was holding one of those film-type microphones, sporting a 'Radio London' promo 'cube', recording the whole run. Still we got through it, although there is little time to relax and gain our thoughts before the first preview. Nerves? Scale of one to ten: gibbering wreck.
DAY 18: 22/7/09. Opening Press Night. The pressure was, as ever, really on. In for a speed run of the most difficult, speedy section in the play, then another dress rehearsal to get us all up to speed. Then an hour's break to relax and compose ourselves. Actors pouring over scripts in any available corner. It's amazing how we all come to each others' aid, reading and running lines, or generally offering thoughtful and supportive comments of encouragement.
The performance. We are so aware that we are not doing this for ourselves. We are also aware of an enormous responsibility, this being the fourth anniversary of Jean Charles's death. When the play is finished, there is a real sense of achievement. The audience seem to be as moved as we were that lifetime ago when we first met in that rehearsal space and read the script through for the very first time. There is electricity flying in the Landor Theatre, an electricity about which Jean Charles would have been justifiably excited.
23/7/09. After the press night we are amazed at the response from reviewers. The free newspaper distributed at various locations throughout London, The London Paper, has an unbelievably positive review and photographs, describing us as a 'devastating piece of theatre'. It is odd to see people reading these papers on the underground, seeing them glance at a picture of a man who is, in reality, sitting directly opposite them in the carriage. I pick up a coffee at our favourite cafe and the owner is, understandably, proud that his customers are, in his words, "famous".Bravely, I get a ticket for my daughter, Belinda Williams, herself an up-and-coming young opera star who will soon be appearing at the Grimeborn season at the Arcola Theatre London. Belinda and I have always been harsh critics of each other's work. She greets me in the bar afterwards with an emotional hug and whispers how proud she is of me and how moved she is by the production. This means so much to me.
24/7/09. Five star review from the Times and Billington in the Guardian is also very positive. We are also called in to perform short sections of the play for a reporter and camera operator from BBC World Service for Brazil. Two young and friendly reporters ask to interview me as well. I feel a huge responsibility on behalf of the whole company, especially as my comments will, in translation, be heard in Jean Charles's home country. I also enact the bullet scene with Alex (which appears as the iconic image in most of the publicity). The reporter then asks for my opening speech, where I describe the everyday normality of Jean Charles's innocent departure from his flat and the horrific consequences of a catalogue of events which culminated in his death thirty-three minutes later. We all comment afterwards that this is not a play that we can 'sit back' on. It demands absolute concentration from opening moment to closing exit from the space; that, I realise early on, will never change.
26/7/09. Saturday night and there is such excitement at the play's reception, both from critics and from the public. 'House Full' signs are appearing outside the Landor which is very unusual for a fringe production. The play is tighter, slicker, and we all are settling into our parts well. There is time to listen and observe one's fellow actors, rather than scramble frantically in one's mind for the next line and long for the next cue. After the play, we sit in the bar and talk. A well-earned couple of days off after an incredibly intense month's work.
27/7/09. It is our first Monday off for many a week. Performances resume tomorrow evening and most of us will arrive early at the theatre so that we can run lines. Even today, I spend a good hour going through the script, tightening up cues and practicing difficult words and sentences. The play seems to be with me day and night. It is not a sombre feeling, nor is it one of depression. It seems far more visceral than that. It is as if the truthful narrative of this single day has been branded into my consciousness. I carry the knowledge that the play has given me like a personal memory. I carry the anguish and the pain of the family. I carry the guilt and the trauma of the firearms officers. I carry the responsibility of presenting this history to a small, select audience of theatregoers for whom so much of what we express appears in some way new or unrecognized, immersed in the reams upon reams of documental inquest evidence. I am not happy to carry this burden -- happy can never be the word -- but I am content and resigned to the necessity of bearing it in order that the story can evolve and consolidate in our collective consciousness. I owe it to the play and the people involved. I am, though, inordinately proud to be a part of this process.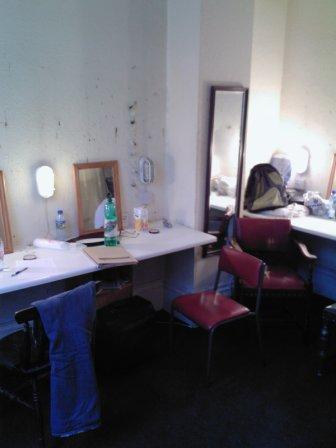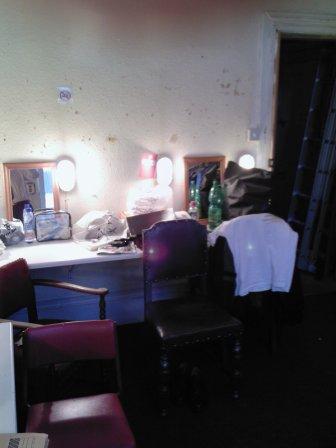 The Glamour of Show Business: the dressing room for seven male actors at the Landor
28/7/2009. There is one thing that fills an actor with dread, something that has only entered theatrical experience in the last fifteen years or so. The Mobile Phone. Dread because, as we all know, it is so easy to leave on by mistake. Come a particularly moving, quiet, plot-laden moment in any production, and a mobile will, inevitably, spring into life. All concentration is lost, as actors and audience alike strive to trace the offending punter and their electronic device, hoping beyond hope that a cavernous flaming hole will open as two Virgin-Mobile-red devils escort the culprit into the depths of sim-card Hades. Unfortunately, to this distraction can be added a new and vibrant form of inane disregard for a play and its performers. The I-Pod left ticking out its sorry compilation in a bag stuffed under a chair, the tiny tinny earphones emitting at a frequency as annoying as any beat-frenzied mosquito in a sultry night-time bedroom. Tonight, we have both. The same mobile going off not once, but three times before it is eventually, and very visibly, switched off during the interrogation of Cressida Dick, and the Lilliputian underscoring from a particularly invasive I-Pod soundtrack. How we got through the play nobody knows. We are so angry in the dressing room. Still, the audience again were engrossed with the play, so much so that these did not appear to detract from their enjoyment.
Try as we may, it now seems certain that anyone who has not already booked their seats will be unable to catch the play. A runaway success.
29/7/09. What a difference between one night and the next. Tonight, we have an incredibly attentive audience. Heather makes an announcement before the play to switch off all mobile phones. We feel more confident.
Tonight we read that we are Critic's Choice in Time Out London. Before the play we sit and talk, a strong sense of really enjoying being part of this amazing process.
After the play, we sit and relax in the bar. We genuinely feel that the sum of the project is worth so much more than us as the individual parts. We all feel real pride when people tell us the play has moved them or made them cry or think about the events of 2005. We part and I travel home on the underground, having met by chance the artistic director of the Landor Theatre, Robert McWhir, on the platform at Clapham North station. This charming and alarmingly youthful-looking man discusses the play and the Landor and his hopes for the future with sincerity and passion. The Landor have been good to us and, as he says, we are "all pros" ('professional actors') and so they have found it a pleasure to have us at the venue. Very positive reaction to a possible transfer, although the date might be some time in the future. Looking forward to tomorrow night.
30/7/09. A good performance. Very tight and really positive feedback afterwards. In the Landor gardens, we are invited to sit with a large group of supporters of the de Menezes family. Most strident is the indomitable Yasmin Khan, Senior Campaigns Officer (Global Justice) for War On Want who tells us of her own personal experiences of the inquest into Jean Charles. She tells us of the circumstances of the actual court proceedings, about the drama surrounding the events of the inquest and about the traumatic moments towards its end. Many of her insights came as a shock to us. We had not considered these aspects when embarking on the drama and they add an unnerving immediacy to what we are performing onstage. An observation. We, as actors, are a company of non-smokers; we sit with these very motivated and passionately politicized people and they all smoke non-stop. Different pressures.
Yasmin also tells us that the de Menezes family will be attending the final performance at the Landor next Saturday night. Fortunately, her response to the production is so positive that it relieves some of the anxiety at hearing this news. It is one thing to perform a play to a group of strangers or relative strangers; it is quite another to perform to people for whom the reliving of these events will cary a painful, devastating poignancy which is, for most people, incomprehensible in its intensity.
31/7/09. Tonight, we meet the playwright Kieron Barry for the first time. He has flown over from the States to see his play performed, accompanied by several friends from his time at Durham University (studying, interestingly, music), as well as many members of his immediate family. Sister, father and aunt all greet us after the play, treating the company to a wine and food reception in the back section of the pub. Kieron is a delightful man; unassuming and humble and very quick-witted. His aunt, a nun and prison visitor on the Isle of Wight, talks of her admiration for the play and for her nephew. When pressed, she also discusses the problem of prisoner suicide. Three suicides on the Isle of Wight so far this year -- more than the whole of 2008. She explains how some are accidents, with prisoners believing that by attempting, but not succeeding, to hang themselves they might get a transfer to the mainland. Unfortunately, it is a fine line between hoped-for failure and fatal success. "You never see a suicide coming," she explains, confirming that those prisoners who really want to take their lives are successful because of the tragedy's unexpectedness.
Afterwards, we talk with Elena Procopiu, a fine actor who also voice-coached the 'family' in the play. She is embarking on her solo stand-up career, writing her own material and performing in various venues around London. We have worked together before and it is thanks to her that I am in this play. Her recommendation led to me being cast. Thanks Elena, you little knew what an amazing opportunity you were sending my way; I will always be grateful. Only seven more performances. As David Hepple comments early in the evening, the play has totally taken over our lives, making the days strangely disjointed. Even as I write this, I am thinking of my lines, thinking of the next performance and thinking of the importance of concentration and energy. Anyone who says that each performance is anything less than stressful work is fooling you or themselves. Both Helen and myself agree that the first week alone took a major toll on our respective health and well-being. Perhaps it's the play or perhaps it's the subject-matter. I wouldn't have missed it for the world, though.
1/8/09. A good, tight Saturday night's performance. Despite the 'sold out' signs and the fact that people have to pay for their tickets in advance, there are empty seats. Obviously bought and paid for, these seats are a sorry reminder of those who, for whatever reason, couldn't be bothered to make it and didn't let the theatre know. A great performance all the same. Very intense and moving.
2/8/09. Our first and only Sunday matinee performance. A warm, sunny London afternoon might make people think twice about coming to a fringe venue. No need to worry, the house is, as ever, full. Possibly not what we should have found out, but we are told beforehand that Vivian Figueiredo, cousin of flatmate of Jean Charles in Tulse Hill and represented in the play, will be attending the performance. We are so aware of our responsibility towards the family and the play that this doesn't really phase us. Possibly more of a concern for Brendan, who overtly refers to Vivian in his dialogue. The play goes so well. There is real tension in the air. By the end, I am aware of many people openly crying.
Afterwards, we stand around in the sun-drenched pub garden, speaking to Vivian, another cousin and the designer of the Jean Charles mosaic which they wish to site permanently at Stockwell Station. It is gratifying that they appreciate the work we have put into this. We cannot express too much how important the project has been and continues to be. Still, it is humbling to meet the people for whom the grief and anguish of July 2005 must be permanently a part of their lives and which will forever be a painful part of their family's heritage.
4/8/09. Tuesday night and back at the Landor. It is a hot, sultry evening. Humidity is high and the general atmosphere is oppressive. I feel as though I have been away from the theatre for days, not just forty-eight hours. We nearly all arrive early to run lines and check fast cues. Only five more performances. All this work, all this effort for such a short run.
A long conversation and discussion of the repercussions of the play, and the historical implication of its staging, rages long into the night. I am convinced that there is no more important, relevant, or socially significant drama on the London stage at this time.
5/8/09. We come off from tonight's play in a state of subdued euphoria, if that can make sense. The play felt so incredibly focused, so solid. Every performance was firm and precise. We all knew that that was the play as we want it to be remembered. The audience were so with us too. Every subtle comment, every nuance of behaviour, is seized on and appreciated. There is a justifiable sense of achievement. People are still coming up to us, saying how much they appreciate (many say they just can't use the word 'enjoyed' because that would be wrong) the performance. A good night.
6/8/09. After a long day discussing plays written four hundred years ago at a Shakespeare's Globe training event, it is back to the Landor for a production which is as contemporary in its immediacy as possible. This leads me to consider what it must have been like for sixteenth and seventeenth century players and playgoers who shared a collective social and historical awareness. Just like the audiences who watch Stockwell and who, many of them, have personal and very vivid memories of the events of July 2005, people who watched and who performed plays by Shakespeare and his contemporaries will undoubtedly have had similar collective experiences, either of fear about imminent Spanish invasion, threats from suicidal attacks against the monarchy, or memories of bloody religious persecution and oppression by regimes that seemed as changeable as the wind. How hard it is to recreate these same cultural collective experiences. Someone watching a revival of Stockwell in four hundred years time would need a text book of reference material just to make sense of the debate which the play engenders. Hopefully, the emotion at its core would still be discernible.
Tonight, Brian Paddick graces us with his very charismatic presence. Dominating the front row, Paddick adds a frisson of legitimacy to proceedings, especially as he gave evidence at the actual inquest. It is a very good show, despite the heavens opening after a particularly muggy, pressure-laden day. Monsoon-like rain pours down on the Landor but nothing dampens the determined spirits of those who pack out the small theatre space. Only two more performances after this. Really strange and sad to lose sight of this wonderful theatrical experience.
7/8/09. We are all excited to receive a text asking if we would be available for a transfer in September. Two week run at a 'secret' location. Arrive at the Landor to find everyone has replied that they are free and willing to work those weeks. Much discussion about possible venues, with Arcola and Soho banded as possibilities. Strange, then, that a total stranger walks up to us in the bar afterwards and says, "so, you're doing two weeks in the 'Tricycle' eh?", a remark which, with a bit of simple internet detective work, proves to be just the case. Really looking forward to this move. Home from home for me, so to speak.
Last show tomorrow -- for now we hope. It will be sad to leave the Landor and our friends there.
6/8/09: The days are passing so quickly. Can't wait until we reconvene to rehearse. I really miss the rest of the cast. Even now, I wake up in the night and find I have to run the lines of the play. The images are so strong in my mind. In fact, there are times I can hear the other actors and their inflections. Come on guys, let's get together.
18/9/09: I can't believe it's only two more performances of our run at the Tricycle at Kilburn. The last two weeks or so have been so hectic that it's only today that I can breathe a sigh and sit and write. We rehearsed in Forest Hill in a wonderfully-equipped modern rehearsal space. The staging had to be altered drastically to accommodate a conventional theatre space. Much time and energy was spent on the regrouping of actors onstage and considering the greater distances that had to be covered. Also the sightlines; the Tricycle is a beautiful space with looming red-scaffolding galleries providing fascinating vantage-points from which to watch the play.
We arrive in the theatre for the technical rehearsals. Nic Kent, artistic director of the Tricycle, as well as his wonderful theatre manager, Mary Lauder, greet us warmly and the whole experience has been warm and friendly. Box office, bar staff and the security guards all exude a genuine joy to be working in such a creative environment.
The play has, again, been a great success. It is fascinating to see (and hear) the differences in audiences. The Tricycle punter expects something political, something hard-hitting. They are far more vociferous in their reaction to the staged events. Gone is the polite and intimate (or intimidated) silence of the Landor. In is the collective responsibility that the play so eagerly excites.
As I say, two more performances of this astonishing play. Dreams of transfers elsewhere? That would be wonderful but alas in the lap of the gods. Thank you Tricycle and thank you Nic for giving us the chance to offer Stockwell to an even wider audience. It has been so worthwhile.