On a day when central London is effectively sealed off by more Lycra than an international Abba convention -- alright, the run-up to the Tour de France -- it's such a pleasure to escape this sporting security nightmare to meet with the man who the socialist magazine Red Pepper famously described as the 'shadow poet-laureate', Adrian Mitchell.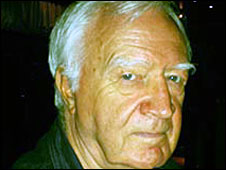 Mitchell's credentials as a poet and playwright stretch back over half a century. Although beginning his career as a journalist (he famously was the first to publish an interview with an up-and-coming new band called The Beatles), Mitchell's love for literature and poetry ensured a healthy mix of publications, both for the adult and children's market. The list of plays which he has written or adapted is equally endless, with commissions from the RSC and National Theatre and collaborations with directors such as Peter Brook and Peter Hall. Mitchell is no stranger to theatre and his passion for the spoken word shines through.
So, what about this latest venture, an adaptation of a play by the man considered to be the last of the Spanish 'Golden Age' writers, Pedro Calderón de la Barca (1600-1681)? "I remember the time I first saw the Arcola Theatre as a member of the audience. I went to see Crime and Punishment in Dalston, a David Farr play, and I was knocked out by the space -- so wide and distant -- like walking from the edge of the horizon into your sitting room." For Mitchell, this wide acting space holds a particular resonance, especially since seeing a production of the Marat Sade there, a play which he famously wrote for Peter Brook's company in the 1960s. "I've seen several versions since, including the one which Peter filmed in just ten days, but this stage version [at the Arcola] was ten times more powerful -- it was a real 'knock-out' which confronted the issues as it should."
It's not just the acting space which excites him though. "I like the spirit of the place. We often go as a family to see plays there. The 'gents' is the warmest place in winter and there's a wonderful cheap Turkish restaurant over the road. It's a family outing." It is no surprise, therefore, that Mitchell jumped at the opportunity to work for the Arcola, especially with the equally-prestigious director, the legendary William Gaskill. "I'd never met Bill but he invited me to a RADA student production of the play he was directing -- the students did a really good job."
The play the RADA students performed was The Great Theatre of the World, published in a triple anthology of Calderón's plays in 1990, and one of Mitchell's many Anglicizations of international texts. "I work from a literal translation, always with a linguist. I can adapt plays in Spanish, Chinese, anything. My job is to make the play work for a modern English audience -- but allowing the spirit of the original play to work too. The plays I usually adapt are normally verse plays." Mitchell is firm about one aspect of drama. "I believe verse plays should not be adapted except by poets," a wonderful concept in an age when great poets and great poetry seems a luxury rather than an everyday occurrence. "If a verse play is not adapted by a poet, you really lose the motor. A really good play in verse is like a river; a really good play in prose is like a road: it depends what you prefer -- boats or lorries!"
Mitchell prides himself on "starting the revival of interest in the Spanish 'Golden Age'", with Calderón's play one of many which Mitchell himself describes as 'Mystery Plays' written by sophisticated poets for public performance following a procession headed by the King of Spain. "These sophisticated poets were writing partly as an act of faith and partly as a job. Calderón was trained by Jesuits, eventually becoming a priest himself. This was not preaching to convert -- his audience were all Catholics -- Calderón just assumed they thought the same as him." The result, "a universal play set in the universe." Who will the play speak to? "People who enjoy wonder -- who've got a sense of wonder and a sense of humour about faith and belief."
In the light of Mitchell's own self-professed atheism, how does the play square with his own attitude to faith? "It's a play full of humanity -- about how you choose to live your life. In it, God is a Director, the World a Stage-Manager, and the People -- us -- the actors who are all handed our parts to play. It's all about how we play our parts. If we are made king, are we a good or bad king; if a beggar, are we good or bad beggars? If we are good in our parts we get to have dinner with the Director, 'God', at the end of the play. It's just like real life!"
Mitchell smiles as he likens the god-like power of a director to some divine interventionist who rewards his humble actors for a job well done. He adds humorously, as if by way of explanation, that he even "sometimes keeps out of Bill's way," though just as often is approached by Gaskill "to help the actors get on terms with the verse." Mitchell is proud that he has often "helped young poets who haven't read in public to read their poetry -- to adjust what they hear -- to gain confidence and courage. Poetry takes time -- you don't gabble through poetry (unless it's bad poetry) -- you need time to see pictures in the poetry." When asked, Mitchell confirms that this 'gabbling' applies to some "famous actors of Shakespeare": "The jokes just don't work, especially if there's too much emoting in verse-speaking." "When it is done well, people don't notice it is verse -- what's the difference between verse and speech except intensity and rhythm?"
For the young cast of actors rehearsing The Great Theatre of the World at the Arcola, Mitchell's passion for the communicative and emotional power of verse must be infective. Young indeed, but with the great Madhav Sharma as a timeless 'God' this is certainly no light-weight production. Indeed, Mitchell wants to make it quite clear that, despite some rather attractive though potentially confusing pre-publicity, this is not a puppet-play production. These are real actors performing wonderful verse and singing newly-composed songs by a long-term friend and collaborator of Mitchell's, Andrew Dickson. Mitchell describes his composer friend as an "unreconstructed hippy from Dorset with tunes coming out of his toenails." This I have to hear!
Ultimately, though, at just over 75 minutes, this short play packs a powerful message. How would Mitchell sum it up? As a play which is gloriously "celebrating the courage of human beings and the beauty of the world." You don't have to be religious to recognize the value of that message. You just have to care about the world you share with others, and the benefit of playing our respective 'roles' to the very best of our abilities. An amazing message from nearly four hundred years ago brought back to life through the poetic and dramatic vigour of Adrian Mitchell. The beauty of the world and our collective courage look to be celebrated at the Arcola Theatre with this fascinating adaptation.
Kevin Quarmby © 2007
It is with sadness that I hear of Adrian's death from pneumonia on 20 December 2008. Two days before he died he penned the following Christmas message to his family and friends: " Can't write letters and it's hard to phone yer, as I recover from two months' in pneumonia, so take this new riff with a glass of good wine, and drink to peace in 2009." It was an honour to have met and spoken with him, especially about a project so dear to his heart.