David Rintoul lounges comfortably with a cold Guinness in the leather-clad cosiness of a Teatro Club armchair. Outside, the first bitter chill of winter braces the Shaftesbury Avenue London air. He is elated. Only the day before, amidst unpleasantly scathing comments from The Guardian about poor attendance figures, Thelma Holt and Bill Kenwright call a company meeting to announce the extension of the run of RSC plays at the Gielgud Theatre.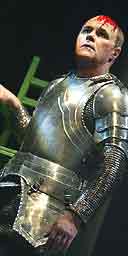 It will be hard work for the twenty eight cast members, performing ten times a week, with at least three of the actors appearing in nine of the ten plays, but as Rintoul says about this "delightful company", in "British theatre, if you bring together the right people, it's not hard". Of course, that perennial problem of tourists, or a lack of them, plus the proximity of Christmas to the RSC's opening in London , has strained the box office purse-strings, but the audiences have picked up, especially as word of this extraordinary season has filtered into the public recognition. Perhaps an ongoing debate with The Guardian has had its good effects, especially as Antony Sher has added his weight to the argument. The only bad publicity is 'no publicity'.
Rintoul's easy and relaxed manner belies the fact that he has just performed King Edward III in a Tuesday matinee of Shakespeare's wonderful warrior romp, certainly the largest role he has had to play for many years. "Learning the lines was a pain in the arse" admits the actor who last appeared with the RSC over twenty years ago, when he embarked on the small-scale RSC tour of 1 and 2 Henry IV, playing town halls, and "those giant sports halls that sprouted around the country under the Wilson government".
This certainly has not been Rintoul's only engagement with the Bard though. His acting credentials include a memorable season with Derek Jacobi in Richard II and Richard III, playing Bolingbroke and Edward VII respectively, and I remember a fine production at the Edinburgh Festival of As You Like It, with Rintoul's Orlando playing opposite Lynne Dearth, and a young and talented actress called Alice Krige. Not to mention yours truly being hurled by Rintoul around the Poppy Mitchell designed stage as a younger, lighter, Charles the Wrestler.
Importantly, I reckon this is the first actor I have ever met who has a full and sincere answer to the thespian's nightmare: "How on earth do you learn all those lines?" Cornered in a bar in Brighton, or attending a compulsory post-show civic function in Harlow , you know someone is going to ask this question, and you also know that as an actor you must graciously reply. Rintoul is far more straightforward, honest and practical. "I buy a school exercise book, always the same sort, and I write the lines out, variously highlighting the stage directions, entrances, exits and cue lines." This 'tool' is then always with him. It really is. He pulls its dog-eared pages out of his rucksack and proves it. He reads it through before each performance, no mean task for a part the size of Edward, but a very useful technique for anyone who finds the process of line-learning and retention a laborious slog from start to finish.
All this work had to be achieved in an incredibly short period of time. Not renowned for their generosity with rehearsals, the RSC suffered the double difficulty of the last minute loss of Ed Hall, originally intended as the director of Edward III, leaving a mere four weeks shared rehearsal for Anthony Clark to cast and direct such a complicated piece. All credit to the achievement of the company and its director for creating such a memorable event in the theatre in such a remarkably short space of time. Shared rehearsal too, which means that actors had to be jostled between Edward III and Gregory Doran's exotic Island Princess, learning lines here, entrances there, and picking up a working knowledge of gamelan playing en route. Schizophrenia is alive and well and working in this RSC repertory.
"It all happened so fast" claims Rintoul, having received a call from his agent on the Friday, when he was flying up to Glasgow to conduct a Shakespeare workshop at the Scottish Youth Theatre on the Saturday, speak at Ian Bannen's BAFTA memorial on the Sunday, and record a voice-over on the Monday. So, with no preparation at all, and a "would you do it if I offered it -- would you offer it if I'd do it" conversation with Clark , he is thrown in the deep end and rehearsing by Wednesday.
The result is an Edward III in repertory with The Island Princess, The Malcontent, The Roman Actor and Eastward Ho!, and Rintoul's equally impressive performance as the infatuated Portuguese Captain Ruy Dias, whose "twisted sense of honour" parade's arrogantly in front of his young Island Princess.
There are many sides to Rintoul that betray his energy and accessibility. As a founding director -- along with his partner Vivian Heilbron, who is herself finishing a hugely successful run at the Richmond Orange Tree Theatre in W. S. Gilbert's Engaged -- of the Actors From The London Stage Company, Rintoul regularly sends five hard-working individuals in collaboration with the University of Notre Dame, Indiana, to perform uncut versions of Shakespeare's plays. This involves not doubling, but as Rintoul says sometimes "sextupling", the most recent problem being how to have Orlando , Fabian and Feste appear in the same scene of Twelfth Night, at the same time, played by the same actor! That pales into insignificance with the image of As You Like It. "The same actor played Orlando and Charles the Wrestler, so it ended up with him fighting with himself!" bemuses Rintoul.
Despite the regal importance of his role as Edward III, Rintoul proudly boasts of his own experiences in pantomime. After four and a half years of Dr Finlay on TV, panto was a light relief, playing such 'baddie' stalwarts as Baron Hardup and Abanazer at His Majesty's Theatre in his home town of Aberdeen , and the King's Theatre, Edinburgh . Directed by Andy Gray, who also played Buttons and Wishey-Washey respectively, Rintoul giggles at the terrible jokes he had to deliver to the unsuspecting Scottish children. Remembering the joys of Abanazer singing Michael Jackson's Bad, complete with moonwalk, Rintoul relates his own ad-lib when Gray calls offstage "where are you, Dandini?". "So I just stood at the side of the stage, and shouted back: 'Do you mean Crocodile Dandini?"
Eat your heart out W. Shakespeare, David Rintoul's in town and doing a great job at the Gielgud.
Kevin Quarmby © 2003