Liverpool has a treat in store come this September. Gemma Bodinetz takes over as artistic director of both the Everyman and Playhouse Theatres. There's a buzz in the air as a director happily pigeonholed as a supporter of 'new writing' is given a golden opportunity to make her mark on the recently announced 'Capital of Culture, 2008'. "I'm like the cat who's got the cream" beams Bodinetz (that's pronounced 'Bod-in-ay' she laughingly corrects me).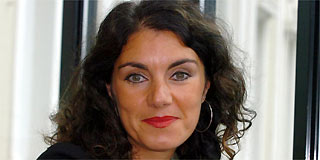 Bodinetz is set to take over artistic control of both the Everyman and Playhouse Theatres. This definitely isn't a career move for her. "I don't see theatre as a stepping stone -- I'm one of those long-term artistic directors." This is obvious, for after a few months to 'find her feet', and work impossibly hard, she, her husband and nine year old son are selling up their London home and moving north-west. "The biggest change will be for my boy" Bodinetz admits. "For me, it's all just wonderful."
Bodinetz admits the prospect of running two theatres is a "huge undertaking" but if energy and enthusiasm are a measure of success, she is destined for greatness. "It's not my first time in Liverpool either. I co-produced Jonathan Harvey's Guiding Star at the Everyman, before it transferred to the Royal National in 1998." Bodinetz joyfully talks of her forebears as well. "They were Eastern European Jewish immigrants and the family story goes that my grandparents landed at Liverpool thinking they'd arrived at New York !" So, Bodinetz is returning to her roots after all.
With an Irish Catholic mother, Bodinetz sees her own cultural mix as perfectly suited to the politicized and individualized Liverpudlian mentality. "Even cab drivers become excited when they ask what I'm doing. Theatre is so important here." The fact that Liverpool is blessed with such a unique idiom, an individual voice that is full of cultural diversity and passion, is reflected in the number of plays Gemma has read in her time at the Hampstead Theatre. "A huge number of writers that come through Hampstead's doors are from Liverpool . It's a creative melting pot of a city."
Bodinetz is a great ambassador for her newly adopted home. "It's such a metropolis, with its theatres, universities -- it has a fabulous voice. Liverpool has always had a passion, a strong identity." The experience of Glasgow , a previous 'Capital of Culture' bodes well for Liverpool . "After that, the jokes stopped about Glasgow and people saw it for the great city it is. I know the same will happen with Liverpool . No more scally-shellsuit-carjacking quips -- they really annoy me."
The Autumn and Winter seasons at the theatres had already been set by the outgoing artistic director, Jo Beddoe, so Bodinetz's personal choice of plays for her first season in 2004 have yet to be announced. Even so, she has a vision for the two theatres which is firmly based on their very individual house styles and physical designs. The Everyman is a 400 seater 1960s theatre, and Bodinetz intends to nurture its reputation for new writing with a " Liverpool voice." The Everyman celebrates its 40th birthday soon, and plans are afoot for a 'Life Begins At...' season of workshops, and a documentary and book deal on the "renaissance" of this hugely influential theatre.
By contrast, the Playhouse is a 700 seater Victorian theatre with an ornate proscenium arch, and what Bodinetz describes as a "traditionally conservative audience" who expect the best in classic productions. "There aren't many writers who write for a pros arch -- it's rare to find writing for the scale of the Olivier, say -- all except for something like David Hare's trilogy of course." Bodinetz wants to change all that. "The subsidized theatre deserves to see things they've never seen before. I have plans to put on classics, such as a Galsworthy, on the scale of Stephen Dauldry's An Inspector Calls, say. It would be wonderful if we could give Liverpool the tradition of a Citizens and Traverse Theatre as in Glasgow ."
Of course, a reputation for new writing doesn't mean Bodinetz will steer clear of the classics herself. "I've already directed Hamlet at the Bristol Old Vic, and I'd love to direct a play like Cymbeline ": "It's not often that a freelance director like myself gets given the opportunity to choose which projects interest them, but even more exciting is the opportunity to bring the best in directors, writers and designers to work alongside me in Liverpool ."
Bodinetz's credentials are impeccable. A degree in Drama and Classics at Trinity College Dublin, followed by a decade of assisting some of the great names in late twentieth century British theatre. "I owe a lot to Max Stafford-Clark -- I think I'm his biggest fan!" Stafford-Clark gave Bodinetz the opportunity to direct the Royal Court success Shopping and Fucking in New York . "I also learnt a huge amount from Harold Pinter, and my time with Richard Eyre and Trevor Nunn taught me the greatest lesson about directing -- having an 'eye for detail'."
Bodinetz admits her apprenticeship with these directorial giants turned her into a "magpie", drawing inspiration and acquiring skills that could never be learnt elsewhere. The raw talent has always been within her though. It just needed support and nurture, and she is forever grateful to Jenny Topper of Hampstead Theatre who "believed in me at the transition from assistant to freelance director." That belief has now been justified, as Bodinetz embarks on a project which will catapult the Everyman and Playhouse into national and international theatrical status.
Gemma Bodinetz is a rising star in the British theatre scene, and her appointment at Liverpool is recognition of her enthusiasm and determination to promote the playwrights, directors, actors and designers of the future. She sees the various writing groups attached to the Everyman and Playhouse as an "Aladdin's Cave" of raw talent waiting to be tapped. If the productions that Liverpool sees in the run up to 2008 are as exciting as Bodinetz undoubtedly makes them sound, this reviewer will be spending many a happy motorway journey up the M6 from September on.
Kevin Quarmby © 2003