How often can one say that an entertainment, a theatrical event, touches one's life -- that it moves, excites and energizes all in one momentous leap? Very rarely I would say. How much more surprising, then, that such an event should occur from watching a group of puppets? Magic is being conjured in a tiny theatre in Islington, magic so profound, so visceral, that all who see it cannot but be charmed and affected in some fundamental way.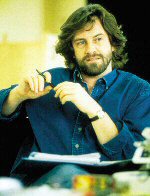 The production is an adaptation for performance of Shakespeare's 1593 poem Venus and Adonis. This heady mix of erotic poetry and imagery, hugely popular in its day, is given new life and lustre under Gregory Doran's impeccable direction. Venus and Adonis is transformed into a fascinating performance which combines all the skills of aural and visual theatre and music -- a comedy, a tragedy, and a fascinating insight into the Classics-inspired literature of the age.
This production, which developed through workshop and trial between 2002 and 2004 and which was first seen in Stratford, is reworked with additions for the Little Angel Theatre, its spiritual and (for the puppet artistry) actual birthplace in London. Whether an adult or child, hardened Shakespeare lover or sceptical novice, Venus and Adonis cannot fail but delight and enthral.
It is certainly a pleasure then to meet with Gregory Doran, who offers to escort me backstage. There I come face-to-face with Queen Elizabeth and the dashing Earl of Southampton, Venus resplendent in her dove-powered golden chariot, the hairy hoary wild boar who gores Adonis at the hunt, as well his trusty steed who deserts his master to his amorous fate. Of course, the diminutive actors of this piece are static in their greeting, suspended from a double-gantry fly tower on black strings or lifelessly lounging on benches. It is only when they are brought to life by a team of puppeteers that these wonderful characters 'breathe' with life.
"We asked the costume department at Stratford to make the Queen's and Southampton's clothes" muses Doran, a sparkle in his eyes as he recounts how the puppets began to adopt a life of their own, with erotic messages being left for each other. "Have a look at the dressing room!" Needless to say, a curtained space no larger than a broom cupboard was the entire 'dressing-room' space available to the actors involved. In fact there is only one actor, for the earlier part of the run the magnificent Harriet Walter. Walter is seated to one side of the action and recites the poem; her simple, controlled, and perfectly-timed delivery complements the gripping story as it unfolds.
I am also introduced to the driving force of the Little Angel Theatre, Lyndie Wright, who, along with her late husband John Wright, founded the venue in 1961. Wright tells me of finding the property, a disused Temperance Hall without a roof and with trees growing within its walls, and how, over a matter of months, this was transformed into the 'home of British puppetry'. Wright, dressed in her working apron, comes straight from the puppet workshop alongside the auditorium, a workshop which passing public can glimpse into from the street outside and which conjures images of magical Victorian toyshops where Pinocchio-like figures are carved and moulded.
This venue taps a deep-seated need for an alternative theatre, the theatre of puppetry, which has, for many years, remained a sadly-neglected part of our dramatic heritage. For me, puppetry was an intrinsic part of the magic of my television youth, whether with Calamity Gulch or Supercar, Stingray or Thunderbirds, wooden figures suspended on strings were to become the stuff of my dreams and, with the innocence of early adolescence, the stuff of my fantasies as well. No wonder I can immerse myself so completely into the magic of Venus and Adoni; unbeknownst to me this is my childhood heritage, except now very very adult in subject-matter and style.
Doran admits that his extensive knowledge of Shakespeare's plays -- "I had seen all the plays by the time I was twenty one" -- did not extend to a close knowledge of Venus and Adonis, a factor which makes the realization of this project the more commendable. In a way, it is this freshness which underscores the production. Doran is certainly not alone. Very few of us know the story of the ill-fated couple -- a story which for Shakespeare's contemporaries would have been as established as a Grimm fairy tale to us.
"I was unsure if I could dramatize this beautiful story," Doran modestly admits, although with his impeccable track record at the RSC it seems unbelievable that he should ever have doubted its eventual success. "I was asked to create a performance -- a fund-raiser for the RSC -- that would last about forty minutes. We put on an entertainment for Highgrove House -- Prince Charles and the Duchess of Cornwall were most appreciative -- as well as in Florence for the New York University, in a ' teatrino' -- an open-air theatre in some wonderful Italian Renaissance gardens." This production, originally with Michael Pennington and Judi Dench as Adonis and Venus set the scene for what was to become one of Doran's most innovative ventures.
"I had been on an RSC tour to Japan and went to see a Bunraku performance -- Japanese puppets -- a tradition which goes back over four hundred years -- in fact to roughly the same time as Shakespeare. These performances, often to a thousand-strong audience, would last for almost seven hours. A narrator would appear on stage-right and musicians stage-left whilst onstage, three puppeteers would work each figure, practicing an art passed down from generation to generation and requiring an apprenticeship -- a hierarchy of skills beginning with feet, progressing to left hand and culminating in head and right hand -- which was learned over years of study. The great puppeteers, or a particularly intricate movement, would receive cheers of delight and recognition from the audience."
"It was this experience that gave me the idea how I could dramatize the text. We held workshops at the Old Vic and, in combination with the puppeteers from the Little Angel Theatre, developed what you see today." I can confirm that so much of the joy of this performance stems from the balletic dexterity and compelling concentration of the puppet-manipulators who 'dance' with the intricacy and physical proximity of tangoing lovers.
"We have combined several types of puppetry into the performance, with 'table-top' puppets a third life-size -- or the marionettes of Southampton and Elizabeth -- all the way to rod puppets," which includes Shakespeare himself, wafting his quill, "through to a big carnival puppet to personify 'Death'." In a coup-de-theatre, 'Death' emerges from the very proscenium arch which surrounds the action of the play; visually, the ensuing macabre 'dance of death' between Venus and her all-embracing nemesis, is stunning in its dramatic complexity and inventiveness. "I had left the rehearsal session to deal with other business and on my return the puppeteers had created this moment -- such a profound image around sex and death which goes back, in literary terms, a very long way."
Having discussed this wonderful production, I ask Doran about his personal vision for Shakespeare and the productions he directs. Doran admits that he gets particularly frustrated when asked the inevitable question, "So, what are you going to do with (say) King John?" Barely masking his disdain for such comments, Doran explains his usual answer is, "I'm not going to 'do' anything other than convey as honestly and truthfully as possible what Shakespeare wrote -- I thank him so much, it's all there in the writing."
Doran adds that "some critics complain that it's old-fashioned [to perform the script as it was intended] but I am so anti 'concept' -- you know that sort of 'concept' with a capital 'K' and an umlaut -- I cannot do plays for the critics, that way lies madness." Despite this, Doran remembers Michael Billington's original review of Venus and Adonis which bemoaned the absence of the frolicking hare, Poor Wat. "Lyndie [Wright] came in one day with a Poor Wat, a wonderful leather puppet, so I've written to Michael saying, "Don't say I don't listen to my critics' comments!'".
"I just wish that audiences were coming to all Shakespeare's plays afresh, without preconceptions," Doran adds. "I just try and interpret them the best I can, make them clear and honest and accessible." For Doran, it is imperative to recognize that his work, by its very nature, will always "filter the plays through my own social, political, and psychological perspective -- I am a gay man; it is impossible for me to ignore the homo-eroticism when I find it in a play. I'm not going to invent it when it isn't there, but I cannot ignore it when it is."
So, out of twenty-five productions for the RSC, Doran has directed fifteen Shakespeare plays so far and reckons he has some way to fulfil his dream of completing the canon. "Still," as he reminds me, "Donald Sinden once said, 'Man cannot live by Bard alone'," a comment which highlights Doran's determination to expand his own, and his audience's, repertoire of plays. "That was the reasoning behind the 'Jacobethan' plays," a group which won the Olivier Award for Outstanding Achievement of the Year 2003.
It is rare to find a spirit so in tune with his environment and with his age. Doran has freshness of intellect and artistic drive to forge new avenues of artistic exploration. Venus and Adonis represents one such avenue, one which cannot but satisfy the hardest of hearts. If it's magic you are after there is no better place to experience it than in the company of the puppets of the Little Angel Theatre Islington.
Kevin Quarmby © 2007