"Outrageous," booms Howard Barker, responding to "that perennial question" asked by countless British journalists: "How do you feel about the apparent lack of interest in your work in the UK?" Mock anger mingles with heartfelt disgust and dismay. "It's an authentic scandal that I am not presented in theatres in this country." With justifiable pride, Barker notes that next April no less than five of his plays are to be produced in one Paris season. Of course, as he also admits, the vast Parisian theatres which embrace Barker's work so enthusiastically also come ready-funded with equally vast artistic chequebooks. Nevertheless, 'outrageous' seems apposite when describing our apparent neglect of Howard Barker, a pre-eminent British dramatist.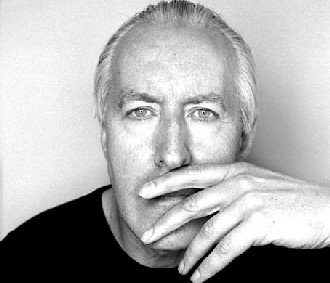 Still relishing the word "scandal", Barker stresses the futility of permitting this lack of home-grown recognition to affect him too much -- "a writer can get used to anything," he adds, with only a hint of self-deprecating sarcasm. Even so, the fact that European theatres so readily embrace Barker's work is, he assures me, because of their collective "remit to present the best of writing," something the British theatrical establishment seem determined to ignore. Barker is hardly a man to undervalue his talent; it is all the more surprising, therefore, that these admonishments should be accompanied by such genuine warmth and engaging humour.
Barker's anger at the British establishment's refusal to recognize his personal genius, coming as it does from a writer considered by many as a distinctive voice of our age, might seem egotistical. On closer inspection, however, the anger seems personally and artistically justified. Rather than irate ranting, what emerges is light-hearted though genuine frustration at those who fail to identify that single-mindedness which has allowed Barker to remain faithful to his writing and to his unique voice. "It's my life and my psychological state which determines what I write and when I write it. When I sit down to write I don't think about the audience at all. I don't find it useful to think about who's seeing the production -- writing should be about honesty, about writing for yourself." There is something classically admirable about such 'honesty' and such determination in a writer who openly professes his admiration for the tragedies of old.
Whatever Barker's feelings for (or against) the audiences to his work, he surely cannot help comparing the vast Parisian playhouses with the venue of his latest London venture which opens at the end of this month. Called The Dying of Today, this "short one-hour two-hander" will be staged in the "very small studio space" at the Arcola Theatre in London's East End. The Arcola Studio's limited size does not unduly concern Barker, who recognizes that "an intimate play suits such an intimate space."
It is obvious, though, that space (or the lack of it) is a matter which Barker traditionally considers very seriously. Discussing his previous work, he comments on the need for well-trained vocal and intellectual delivery for his plays. " So many actors leave drama schools bred up for television -- many seem disinterested in my complex writing style." It is this same complex style, developed since Barker's days with the Royal Court company of the early 1970s, which has attracted such a European following. Perhaps, its complexity also accounts for it being received less favourably by British audiences, used as they are to the filmic and televisual realism which has been elevated to such primacy by contemporary theatre practice.
Praising the work of Lloyd Trott and the RADA training regime, Barker adds how his new play, The Dying for Today, requires just as much vocal discipline to engage with his "complex writing style." What is different about this play is, however, the age of the actors. Recognizing how unusual it is for him to work with actors "outside [his] usual ensemble," Barker explains how he writes " for young actors normally, or older women, and usually people I've worked with before."
For The Dying for Today, youth has made way for experience, with George Irving and Duncan Bell taking the roles of Dneister and the Barber, described respectively as 'A Teller' and 'A Hearer'. The play is directed by Gerrard McArthur, who is also an Associate of The Wrestling School, Barker's own company, now independently funded by an anonymous US donor after the Arts Council withdrew funding in 2007 . Irving and Bell are certainly not 'young actors', with many years' stage and television experience between them. "It is rare for me to write for older men, but [The Dying for Today] demands it," adds Barker, apparently keen to explain this break from his own tradition.
Prior to the interview, I was given access to a script for The Dying for Today. I comment on the noticeable absence of punctuation in the text, and ask whether this textual flow, with its long speeches which sit menacingly on the printed page and apparently freed from the constraint of traditional syntax, gives a certain freedom of expression for the actors. "There is no punctuation, but you can see a decided rhythm to the play," explains Barker, a rhythm which, as I agree, belies the apparently solid, unstructured appearance of the text. "It requires a highly practiced voice to perform -- properly. The words are representative of my own voice -- they have a very precise structure." With more than a hint of seriousness, Barker adds that he trusts the director, McArthur, is not giving the actors too free a rein. That Barker "voice" is, after all, the trademark which guarantees his continued success in the European market.
The Dying of Today, as Barker informs me, has as its creative "point of departure" some moments in the fifth century BCE Peloponnesian Wars, as recounted by the Greek historian (and disgraced military commander), Thucydides. Thucydides tells of the infamous Battle of Amphipolis, when Sparta captured this besieged city by offering that ultimate of capitalist baits, the right to retain all property as long as its citizens surrendered without a fight.
Seven years later, the Athenians decided to wreak their revenge on this humiliation, sending a hundred triremes to invade Sicily, its principal city Syracuse under the military command of a Spartan. Unfortunately, the Athenian campaign was a disaster, and rather than escape back to Athens when they could, the Athenian force, commanded by the superstitious Nicias, hesitated, only to be slaughtered or captured en masse.
Barker's knowledge of the classics is evident from his choice of dramatic location for his play. According to the Roman historian Plutarch, the Athenians only learnt news of this massacre after a lone sailor recounted the sorry tale to an Athenian barber as he cut his bedraggled hair. The Dying of Today takes place in this barber's shop, as a man who has "made it his life's work the narrating of disasters" draws an horrific realization from the distraught barber, whose only son had volunteered for the failed military mission.
There are fascinating parallels in Barker's play which cry out to be considered, not least in the light of his self-confessed dislike of traditional British 'Humanist Theatre', a description Barker coined in the 1980s. Barker's manifesto against what he sees as that inane desire for clarity, pleasure, or mere entertainment in 'Humanist Theatre' -- a theatre dominated by comedy or didacticism -- has remained constant. "Most [Humanist] theatre is about enlightenment," he explains, claiming that this is what makes it so "impoverished." With discernible anger, Barker adds, "I do not want Brecht instructing me when I go to the theatre." In response to such 'impoverishment', Barker invented his own 'Theatre of Catastrophe'.
"What is interesting is the dramatic experience itself, with an artist imagining an event which stretches your imagination and makes you question its credibility." This "stretching of the imagination" is closely linked to his beloved 'tragedy'. Recognizing a profound difference between classical tragedy and "modern tragedy," Barker explains his own use of the form to bring "death into life," to bring catastrophe into theatre. Tragedy, for Barker, represents a "transgression," in which a character can "trespass against the rules of society but doesn't have to pay the price." More importantly, he sees tragedy as "an art form for people who love life."
Where, then, does The Dying of Today fit into his argument? It is significant that, opposed as Barker is to 'The Humanist Theatre', his own attitude to classical texts and forms is decidedly 'humanist'. There is a fascination, a yearning for classical narrative, which permeates this and many other examples of Barker's drama, one which mirrors that very 'humanist' response to a pre-Christian past which inevitably led to the Enlightenment and the theatrical forms to which Barker is so opposed. In his defence, of course, it must be remembered that Thucydides was not a favourite of the Renaissance humanists, his matter-of-fact historicism only being truly appreciated by nineteenth-century philosophers like Nietzsche.
And it is Nietzsche who neatly brings us back to the particular narrative of The Dying of Today. Misreadings of Nietzsche added fuel to the genocidal tendencies of Nazi Germany, and The Dying of Today concerns what might be the first historical record of genocide on a systematic scale. The captured Athenians, herded into a rock quarry on Sicily, are forced to live for seven long months without shelter and with little water and food. They starve, they burn in the hot Sicilian sun, their captors watching on as disease, malnutrition and exposure bring death to the young men. No wonder the news of one lonely sailor, told in a barber's shop, is weighed down with such foreboding. It is a news which we all share as part of a collective heritage of guilt and hate.
Admitting that the line "it is so hard not to be a slave" represents a "pivotal moment in the play," Barker analyses his own interpretation of its overall message. For Barker, it is the "bad news man's" desire to "move [the Barber] on from pain in the social context" and to "get him to accept that the destruction of society is not such a bad thing after all." Like Fortune's Wheel, there is a cyclical inevitability about destruction and rebirth; there also is that painful realization that the horrors of the mid-twentieth century had historical precedents which stretch back through time, and might, inevitably, filter through to the future. A bleak, if somewhat realistic, prospect and one which serves the ethos of Barker's 'Theatre of Catastrophe' very well.
The Dying of Today will almost certainly ensure that its audience leaves the Arcola in Barker's desired 'Catastrophic' state of being disturbed or amazed. It will also engage with its audience on a far more intellectual, far more cerebral level than we are used to in British theatre. Our propensity for Barker's work depends on our willingness to be as 'imaginative' as he. There is no spoon-feeding of dramatic ideas, no easy access to a writer's intent. Rather, there is an unwritten contractual agreement to experience the uncomfortable and to think about that experience for ourselves. Howard Barker might find his lack of recognition "outrageous," but perhaps this is the ultimate testimony to a longevity for his work which will outlive us all. After all, it might be "so hard not to be a slave," but eventually, even the most oppressed will rebel against their enslavement and face the prospect of death with relative ease.
Kevin Quarmby © 2008