"I have always been passionate about Elena Roger," enthuses Jamie Lloyd, director of Pam Gems's classic bio-musical Piaf which has transferred so successfully to the Vaudeville Theatre stage. "I was assistant director on the production of Evita at the Adelphi," the play which starred Roger in the title role and which first introduced this diminutive fireball of a performer to her West End audience.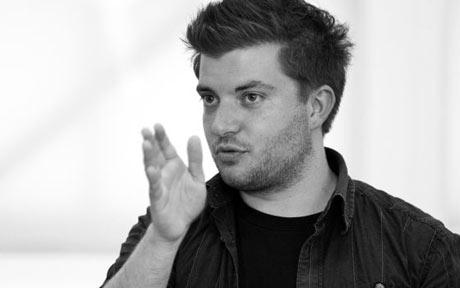 Asked when and where the idea of recreating this fascinating late-seventies play first came, Lloyd explains how it stemmed from his collaborative work with the man he has, elsewhere, described as his 'mentor', Michael Grandage. Grandage had already explored the potential of Piaf whilst artistic director of the Crucible Theatre Sheffield. When Lloyd and Grandage were casting around for ideas for ways to put Roger's talents to ultimate use, Piaf seemed to be the "perfect material."
"Musical theatre at the Donmar has always had 'acting' as its emphasis -- first and foremost it is a place for actors," Lloyd explains. "I approached Elena and said I was so intrigued by Edith Piaf, a part which many people said she should do following the success of Evita." Roger went away, studied the play and investigated the part, and enthusiastically agreed with Lloyd that her acting and singing talents would be well served by such a fascinating venture.
One problem arose early on in the process. Lloyd had already noticed how certain artistic and dramatic decisions made by Gems did not fit so comfortably with his new leading lady. Especially difficult was Gems's original concept of representing French street life with a Cockney dialect. "I realised immediately this wouldn't work with Elena, especially as she has an Argentinean accent -- I could hardly ask her to perform 'cockney', it would just have sounded peculiar."
Unsure how his problem might be received, let alone overcome, Lloyd went to see Pam Gems in person. Still an intellectually astute and sprightly eighty-year-old, Gems was shown videos of Roger in performance and the problem of language explained. Not only did she wholeheartedly agree with Lloyd's concerns, but she rewrote whole sections of the play not just to accommodate Roger's 'generic' European accent, but also to introduce characters such as Yves Montand and Charles Aznavour, all missing from the original play.
Such changes needed to be made, says Lloyd, not least because so many more non-French-speaking people know and love the phenomenon which was Piaf. Ever sine the release of the film La Vie En Rose and the publication of new biographical material, the public have become far more 'educated' in their responses and so their needs.
The result, "a very, very different play" from that first seen with Jane Lapotaire in 1979. "In the original the French songs and the cockney dialect seemed disconnected," says Lloyd. "Now, thanks to Pam's rewrites, the songs and the text sound like they come from the same world," a world of Parisian street whores and pimps, of murder and violence, of sex and drugs and alcohol, and that soaring life-force which was Piaf.
As for the play's transfer to its new home at the Vaudeville. Lloyd is as enthusiastic for the way the play looks as he is for its central performance. "It's really exciting," he bubbles, "I love the way it looks in the Vaudeville. In the Donmar the audience are on top of the actors and of the action. But Piaf herself performed in music halls and in theatres, in those enormous spaces. The Vaudeville captures the spirit of those places. It is wonderful to see the play as a sequence of images -- cinematically you see the complete picture -- the same view, the same viewpoint and the same focus."
Jamie Lloyd seems the perfect ambassador for his own production. His enthusiasm for his star and for the play, coupled with his admiration for the Grandage regime, complement his passion for the iconic images which are Piaf. Although long gone, the spirit of Edith Piaf must be smiling down on the Strand (although now released from her outdated mock-cockney accent), whilst basking in the limelight yet again
© Kevin Quarmby, 2008