"I absolutely hate the word 'fringe'," says Joe Fredericks, co-producer of the recently-formed collaborative venture, MokitaGrit Productions. "Don't get me wrong," he adds, "I think that 'fringe' work is amazing – everyone is so talented. It's that the word was invented by a few wealthy West End theatre producers who wanted to keep themselves separate. The 'fringe' employs many more people than the big West End theatres combined."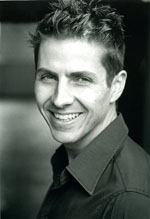 What, then, does MokitaGrit want to be called? "We are a crossover independent production house," Fredericks suggests, "with aspirations to getting involved with bigger and bigger venues." Forming a 'crossover independent production house' in these troubled times? Quite a challenge.
Still, MokitaGrit seem up to it. Technically, this new company is only a couple of months old. Formed of two established production houses – Jane Lesley and Emily Agnew's 'Mokita' and Joe Fredericks and Jon Bonfiglio's 'Grit' – MokitaGrit has already earned itself a formidable reputation.
This May they have produced three shows at the Brighton Fringe Festival (that dreaded word again), were associated with the West End transfer of Stephen Sondheim's Saturday Night at the Arts Theatre, and have two or three more shows in the pipeline as well as their guaranteed Christmas production at the King's Head, Islington, at the end of the year. Impressive credentials for a production house so young.
Fredericks, who won the Society of London Theatres 'Stage One' New Producer Award for 2008, is positively reeling from the success. Still, MokitaGrit intends more than just surprise the London theatre scene with its meteoric rise and critical acclaim. Important for the MokitaGrit image is its nurturing of new writing talent. "Within a week of setting up our new company website, we were getting scripts through the post."
Commenting on that elusive creature, the up-and-coming new writer, Fredericks notes how "newly-emerging writers are such a tight network – they go to the same writing workshops – socialise with other writers – and it's sometimes difficult to get through to them." The MokitaGrit message, with its bold and innovative call for new material, broke through these traditional barriers. "We can now pursue talented writers, offering them the chance to be produced in a 'limited budget' environment."
'Limited Budget'. Very important that. Like 'fringe', Fredericks is keen to distance MokitaGrit from the 'low budget' soubriquet. "We might not have quite so much clout as the big boys – I reckon the King's Head with its 120 seats defines the size of venue we are dealing with at the moment – but there is nothing 'low budget' about what we do."
Following the official launch party for MokitaGrit this coming July, the company are organizing a concept show which will draw together four new writers and their work, as well as a group of talented actors, to produce a "self-contained narrative and theme experience." Venue yet to be confirmed, but for all those who recognize the need for emerging talent to be offered every chance to develop their creativity, watch this space.
All this work needs funding, though. So far, the MokitaGrit productions have worked on a "self-replenishing budget." Fredericks is absolutely clear that, to progress as far as the company dreams, they need investment – "we need funding." Adding that "we are doing an incredible amount of work and we need people to come on board," Fredericks is perfectly aware that the internet and Facebook and all the other aspects of modern technology and networking are the keys to promotional success.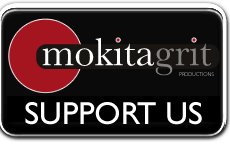 Don't call them 'fringe'. Don't call them 'low budget'. Do call them a young and dynamic new voice in London's theatrical scene, whose commitment to promoting talented new actors and writers guarantees that the MokitaGrit voice will be heard.
Kevin Quarmby © 2009