The Hollywood movie director John Landis has agreed to direct the film version of Batboy -- The Musical which is wowing the West End at the Shaftesbury Theatre, London . Anyone who has seen Batboy will instantly recognize how perfectly suited to this project Landis really is. An American institution in every sense of the word, Landis has directed such greats as National Lampoon's Animal House, The Blues Brothers, An American Werewolf in London, Trading Places, and several Michael Jackson videos including the hugely influential and still frightening Thriller. Batboy -- The Musical -- The Movie is bound to be a hit, with its irresistibly weird storyline and gory humour. Landis gleefully admits the show may be scary, "but I'll make it even scarier!"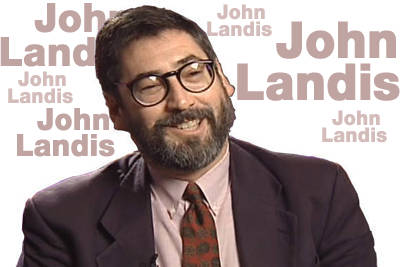 Landis is over in Britain to finalize arrangements for the transfer from stage to screen. I somewhat cheekily mention his credentials -- a twenty page filmography that reads like a Who's Who of America n culture for the last three decades -- mentioning the number of productions he has directed and acted in. Several of his more famous films list him as a stuntman as well. "Those days are past me now. One of my favourite TV commercials in the States was Robert Young, who played Marcus Welby MD -- he'd come on the screen saying 'I'm not a doctor but I play one on television' -- and then sell you medical care!". Landis chuckles as he confides "that's like me -- I'm not an actor, but occasionally I play one!"
How did Landis get involved with this latest project? "I had seen Batboy -- The Musical in the States, so I knew the show. I'd recently directed a film called Slasher, a feature length documentary about car salesmen -- anyway, the producer of that film had gone to high school in San Diego with the producer of Batboy, Kevin Schon, and we were introduced."
Landis had indeed seen Batboy at an off-Broadway theatre back in 2001. "I'd been invited to the launch party for the DVD of American Werewolf in Manhattan . That was to take place on the infamous 9/11. The launch was cancelled of course." Landis describes how everywhere was in chaos that day. "It was like Escape from New York, everyone trying to cross the bridges, hell everywhere"; "I had tickets to see Batboy on the 13th of September, only two days later, and I rang to see if the show was still going ahead. The theatre eventually told us it was, and I saw the show in a one third full house -- the Village, it was like Pompeii -- and everywhere stank of aviation fuel -- I'll never forget it."
Landis acknowledges that, at the time, he thought Batboy "could be a really amazing and interesting film", but then he thought nothing more of it. That is, until Schon and fellow producer, Michael Alden, approached Landis to undertake the project. "I was over in Italy for a film festival and they insisted I see the show in London . I said 'OK in a few weeks', and they said 'no, at once'. So I flew over last Wednesday, saw the evening show, a matinee and another evening show and that was it -- Batboy so impressed me -- it is really funny, insane and bizarre, I had to do it."
The next problem is how to approach Batboy as a film. "This is a stage musical -- it needs a screenplay. I met the writers, Keythe Farley and Brian Fleming in LA, the composer, Laurence O'Keefe in New York -- and they were pretty protective and concerned. They knew that once a director gets involved it becomes the director's and not theirs. What could I say? I told them to get in touch with every writer of every film I'd ever made and ask them! Eventually I got the papal blessing, and now the project starts." Landis admits it is a long process though: "I have two more films to make before I can start on Batboy."
I ask Landis what comes first in the directorial process. Concept? Interpretation? He is adamant that "a stage show and a film are such different animals -- I need to adapt it -- have it adapted -- even the shows themselves are different." I ask him to explain. "In New York the cast camped it up more. Over here they're playing it far more straight -- I really like it. It's differently staged, differently performed." Landis is complimentary of Mark Wing-Davey's interpretation as UK director. "There's a real sincerity in this production -- it's been restaged with minor changes -- I'd even say it's more lavish in London than New York."
Where is it likely to be filmed? "That's down to money. I love filming over here -- I did American Werewolf , Spies Like Us in the UK -- even worked as one of twelve writers on a James Bond, The Spy Who Loved Me, but it doesn't matter where something is filmed these days. Remember, Casablanca was filmed in Burbank and King Kong in Culver City." Who knows where Batboy will eventually be made.
I ask Landis if his politics makes its way into his films. "Of course, all films are political -- I tried to explain to the Italians, only thirty percent of Americans have just voted, and Bush got 57 million votes to Kerry's 55 million -- so Bush didn't get a mandate, far from." Landis is vociferous: "The man (Bush), he's evangelical, he's crazy." Landis also sees a message about fundamentalism in Batboy : "It's a Christian parable -- it's about redemption -- it's like Beauty and the Beast, The Hunchback of Notre Dame and The Elephant Man all rolled into one -- except a lot scarier."
I ask John Landis what he'd like to say about the show in the West End right now. "I really want people to support the show at the Shaftesbury Theatre -- it's terrific, it's unique." Most importantly for this director of horror and comedy, of great box office successes and cult-making iconic movies -- "It's a nice evening out, especially if you're a little demented." Batboy -- The Musical may be for the demented, but if John Landis wants to get involved you know it's a classic of our time.
Kevin Quarmby © 2004