Kevin R McNally shares a conspiratorial secret. Asked why our parents chose, in the mid-fifties, to call their young sons 'Kevin', McNally offers his own explanation: "Mine wanted to choose a name that couldn't be abbreviated." We gaze at each other in resignedly bemused disbelief. Still, he is less annoyed at his parents' choice of name than their decision, when McNally was only eighteen months old, to move to Birmingham from his birthplace, Bristol. Still, they both start with a 'B'. What more could you want?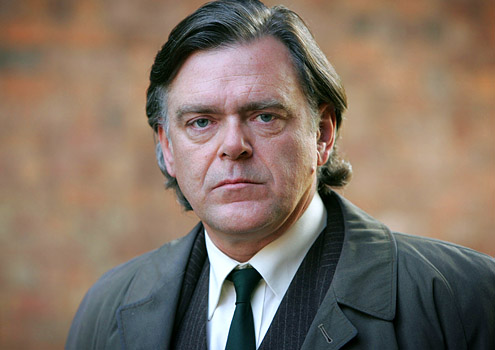 This light-hearted banter seems at odds with the reason I am interviewing this, in his own words, "mature actor." McNally is in the early stages of rehearsing the Donmar West End production of Anton Chekhov's Ivanov, in a new version by Tom Stoppard. Opening at Wyndham's Theatre in September, Ivanov stars Kenneth Branagh as the eponymous anti-hero, and is directed by Michael Grandage. So, a Russian masterpiece adapted for the contemporary stage.
McNally describes his own character, Lebedev, as Ivanov's oldest friend and the father of the woman Ivanov wants to marry. Lebedev remains constant as Ivanov's world slowly falls apart, socially, politically and spiritually. "Ivanov wants to keep all the people he loves in his own orbit," McNally adds. "He's a very troubled man."
Nevertheless, there is a real sense of excitement and expectation about this particular production, not least because of the wonderful talent Grandage has brought together for the enterprise. " Ivanov has mostly been regarded as the slightly inferior brother to the four great Chekhov plays -- but that's a very snotty view. It's actually a very accessible play." It is interesting to note that Ivanov is the first play written by Chekhov. Appearing in 1887, it predates his other great works -- The Seagull (1896), Uncle Vanya (1899), Three Sisters (1900) and The Cherry Orchard (1904) -- by several years. Now Stoppard has taken this rarely-performed play and reworked it for a modern audience. "It's a cracker," McNally joyously announces.
For Chekhov, Ivanov appears to represent an experiment in dramatic form. "He wanted to give the audience a bloody nose at the end of each act." Chekhov's later plays, overshadowing this early offering, have tended to relegate it to the back burner of the commissioning editor's kitchen range. Hence, it "hasn't attracted any great translations." With Stoppard's help, all this is about to change. McNally seems genuinely surprised that this Chekhovian world, full of ennui and self-doubt, could be made "so immediate for an audience": "We really feel like we are working on a new play," he adds.
Confirming what has often been noted about Michael Grandage's directing style, McNally explains how the cast have already had the play up on its feet. This has allowed the cast to experience early the problems which the play might bring. "It's not so much Chekhov's nineteenth-century sound that jars, as the hiccough between Russian sentiment and English sentiment." There seems little doubt that McNally views Stoppard's greatest skill in making Chekhov's tragic humour speak to a modern audience.
"Chekhov apparently wrote the first draft of Ivanov in ten days." This is impressive enough, but what seems even more impressive is the "immediacy" of its drama. "It really earns its comic-tragic tag." Hence, Ivanov seems such a break from the Russian theatrical tradition that it "feels very revolutionary, very modern." More importantly, McNally explains, "the characters are real, just like people the audiences would see on the Russian streets -- so different from the melodramas being staged at the time."
What about the Donmar cast? "Two of the four Acts start with a party, so there are sometimes eighteen actors onstage. Chekhov originally had a cast of thirty actors, but that's going a bit too far. Still, there are times when it seems as though the entire community are appearing together." For McNally, this mass of acting personnel adds a dimension to the play which could, for many, invoke uncomfortable waves of paranoid fear. "It's the perfect environment for gossip -- for scandal. You know, the way celebrity is celebrated. People talk on the tube or in bars, and decisions are made about people they barely know. It is that mentality which Ivanov explores."
With evangelical glee, McNally adds that "this is exactly the moment for Chekhov." "Ivanov isn't just a Chekhov play -- it's asking questions which we still need to ask today. Chekhov was definitely the first great modern playwright. Ivanov didn't rely on previous conventions. It was, and is, a new play in every sense of the word. Anyone who's worked on new plays will share that excitement with me." As a final enticement, McNally claims that we will all be "shocked by the immediacy of this play." Shock? Stoppard? Grandage? Branagh? Chekhov? Okay, Kevin, I'm sold.
Kevin Quarmby © 2008