Lesley Manville takes a break from fighting with a particularly troublesome garden hose on a particularly sunny Spring morning to discuss her latest project. Manville is starring alongside David Schwimmer, of television's Friends fame, in the world premier of Neil LaBute's latest play, Some Girl(s), at the Gielgud Theatre London. After an evening as spurned lover who enjoys her own private "revenge plot," Manville finds solace and relaxation in her garden.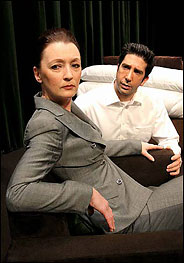 Manville has justifiably made a name for herself on both stage and screen, most famously for her collaborations with Mike Leigh in no less than five movies and one television film. On stage she has played major roles for the RSC and the National, and has helped nurture new writing at London 's Royal Court Theatre .
So what is this venture into a new American play like for her? Manville describes her Some Girl(s) character, Lindsay, as a Bostonian academic who is suddenly reunited with an ex-lover who, many years before, had jilted her after a torrid and potentially devastating affair. Lindsay was married at the time, and the fallout is still something she has to live with.
Into Lindsay's life returns 'the man' (we never learn his name) who is on his own personal mission of self-realization and analysis prior to finally embarking on marriage. Schwimmer plays 'the man' intent on re-igniting old flames in the hope of overcoming his "commitment phobia." Manville's Lindsay decides this is the opportunity to settle an old score which has haunted her troubled life -- hence the revenge. The outcome: "You'll have to come and see -- I won't give the game away."
Some Girl(s) is directed by David Grindley who has recently worked on another American play, the Old Vic's National Anthems. I ask Manville how she approached this particular part. "I did do some background, you know, to understand about Boston and that -- but not a huge amount -- there wasn't really the time." By that, Manville means that the four week rehearsal period left little time to do other than concentrate on the part, the character and the Boston accent: "We are all meant to be from different parts of America and it was really important to get the accents right."
Four weeks seems a remarkably short period of time to rehearse a new play, especially one which, on Manville's own admission, is like "four two-hander scenes, each an elaborate soundbite." The play runs for a swift one and a half hours without an interval. The four week rehearsal process meant that "each actor had perhaps two days working on their section and then sometimes five or six days off": "We had to really be on top of the play, because we all knew the next chance we had to rehearse might be the penultimate before the technical -- there was no time to waste."
The play itself, Manville enthuses, is "refreshingly wordy": "LaBute writes such speakable dialogue -- whether he's writing a film script or specifically for the stage, his textual style remains unchanged." Hence the need for "executive decisions -- rehearsals had to be snappy and fast -- the process needed to be about rhythms -- the rhythms of the piece are pretty vital."
It is difficult -- alright impossible -- for me not to mention Mike Leigh to Manville, who admits that "inevitably" his directorial style and requirements must impact on her performance and rehearsal technique. Even so, Manville is adamant this impact is more "general than specific": "Of course I'm good at improvisation but that's not all that Leigh does. In fact the work starts with his very thorough, very stringent exploration of characters -- improvisation is a long way down the line." There certainly does seem to be a "mystery" surrounding the Leigh process, "but realistically, I would never dream of going into another director's rehearsals with someone else's technique in mind." What it has made Manville, though, is "an obsessive observer of life -- that's what really feeds into my work and ideas."
Manville is highly complimentary of her male star. "Schwimmer is wonderful -- and he has made it clear what an honour it is for him to be working in the West End of London -- an American dream." As an actor, she also finds it exciting that a new play should be able to open immediately in the West End without being consigned to a new writers' festival at the Royal Court : "The quality of new American playwriting and the willingness of these writers to open in London is something we should, as Brits, be very proud of."
What about Some Girl(s) itself, who is its target audience? "It's a play for absolutely everyone -- and certainly a play to bring your partner to -- whether a first date or a long-standing relationship": "It tells of the harsh realities of love -- some women will find it empowering, some men will be huffing and puffing -- but there's something for them all."
Some Girl(s) runs until 13 August with a possible three week extension. Manville describes it as "thought-provoking -- a great opportunity to see David Schwimmer on stage -- and a really ascerbic piece of writing that is totally right for now and totally right for anyone who has ever or will ever be in love." Watch out though, as a lesson to men who seek to rediscover their past mistakes or pleasures, this Friends-reunited plot demonstrates the timeless danger in rousing the wrath of a woman scorned.
Kevin Quarmby © 2005