In today's political climate, age is power. A hundred years ago, the Suffrage movement relied on the shock value of women with an opinion and a voice demanding to be heard. The twenty first century sees the same shock value applied to those senior members of society willing to face prison on a matter of principle or voice dissent at a public political gath ering.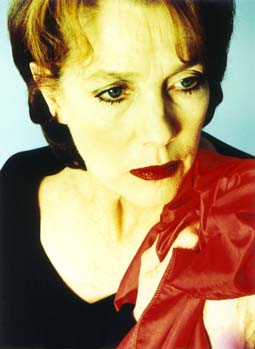 To introduce Linda Marlowe in this fashion is only possible because Marlowe herself so proudly proclaims her age and her achievements. "I'm sixty- two" she gleefully informs me, "and for my last autobiographical adventure I learnt the trapeze!" When the rest of us are contemplating SAGA trips on luxury cruises, Marlowe is travelling the world, working her one-woman shows: "I prefer to work all over rather than in one place -- whether it's New York or Bogotá. I've worked in practically every country in the world -- I find it exhausting, but also incredibly exhilarating."
As for now, Marlowe is touring the UK with her latest single-hander, Mortal Ladies Possessed. "It's my fourth solo show to date. I've played it in New York and at the Edinburgh Festival." Marlowe has received critical acclaim for a show which explores the lives of several flawed female subjects derived from the short stories of Tennessee Williams.
Edinburgh reviewers commented not only on the strength of Marlowe's performance but also on her drop-dead glamorous good looks. "I've had a life-long involvement with physical theatre. From the age of four till I was sixteen I trained as a ballerina." The physical discipline of ballet has never left Marlowe or her craft. It is this physical discipline that sustains her through the gruelling schedule of touring and the enormous strain of carrying an entire evening on her shoulders. "I have to admit, it is a tour de force -- every night there are potential pitfalls -- but I have to do it."
Mortal Ladies Possessed has been written and directed by Matthew Hurt. "It takes five short stories by Tennessee Williams, and Matthew has turned them into theatrical pieces linked by the device of a character written in the style of Williams." This character is the New Orleans boarding house owner and narrator, Widow Holly. Marlowe as Holly introduces various women who have resided in her establishment, each displaying their own damaged personalities. "The stories these women tell are so amazingly poetic and so full of humour."
Marlowe insists that there is no 'Blanche Dubois' in the play, although several reviewers have likened aspects of her performance to this famous Williams creation. "I've played Blanche in Streetcar, but the thing that links these women is that they are all damaged and on the edge. Williams wrote a woman like this into all his stories and plays -- perhaps he sees his own personality like that. All the women are victims -- but then again, most of the men are damaged too!"
As one of the famous 1970s Sadista Sisters, Marlowe is no stranger to controversial, hard-hitting experimental drama. It is her collaboration with Steven Berkoff, however, which she describes as "fundamental" to her career. "We have had a wonderful long-working relationship -- we were evenly matched in our desire to knock down theatrical barriers -- to be provocative -- we are both mavericks."
It was Berkoff who suggested Marlowe undertake the hugely successful venture, Berkoff's Women: "It was steeped in his work -- it seemed the perfect solo show. Steven gave me his full cooperation and support, but he didn't want to direct the piece -- he very much wanted it to be my own." The depth of Marlowe's admiration for her collaborator, perhaps even mentor, is evident from the almost reverential way she describes Berkoff's influence on her own artistic development and success.
Mortal Ladies Possessed is Marlowe's homage to the wonderful character creations of Tennessee Williams. "If you want humour, great tragedy and a full-on variety of really strong female characters, come and see my show. If you don't like one-woman shows, then don't come!," she laughs: "If you want to be entertained and excited by something you might nev er have seen before, then Mortal Ladies Possessed will be for you."
Marlowe is justifiably proud of her achievements and of her sixty two years, and, like her entire career so far, approaches this new era of age-power with energy, commitment and that provocative maverick streak that guarantees an evening both entertainingly vital and shockingly alive.
Kevin Quarmby © 2005