Patrick Spottiswoode has one of those infectious personalities, an evangelical fervour for his project, an intelligent, insightful and determined advocate of the facilities that make up the Globe Theatre in Southwark, London. As Director of Globe Education, Spottiswoode is one of what he calls the 'custodians' of this historic building, deciding on the educational use of this exciting and innovative theatre space. When the actors are not strutting their stuff on stage, obviously restricted to the warmer months of the English clime, the building is a hive of activity and industry, promoting theatre awareness amongst children and adults alike.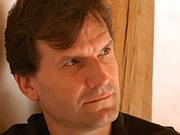 As I arrived, youngsters ranging from nine to sixteen came parading past, some with shockingly vibrant face make-up, others bearing simple props representing horses and spears. They were dress rehearsing that afternoon's inter-school performance of Richard III. Spottiswoode, mug of coffee in hand, ushered me into the groundling entrance, and I saw for myself the magnificently colourful stage swarming with young performers, and surrounded by galleries of eager young spectators. Twelve schools, mostly from Southwark, including three special needs establishments, had prepared for a massive production that would put a Cecil B. de Mille epic to shame. This is the 'Our Theatre' day. A day when children can be the stars, can develop awareness of performance in a professional dramatic environment, with the support of professional musicians, actors, directors and academic personnel, all determined to enthuse this theatre going public of the future.
Spottiswoode is justifiably proud of the Globe's "wonderful mix of scholar and practitioner" -- practitioner is the educational name for those of us who actually tread the boards. This hands on mix attracts American universities, such as Rutgers University, New Jersey, which annually sends undergraduates to complete their Bachelor of Fine Arts degrees in 'Shakespeare and Performance'. Spottiswoode bemoans the cerebral imprisonment of his own "head-based" Master's degree; "these students have practical courses on the stage, in fighting, costume, music, voice" -- all those aspects of theatre production that have been so sorely neglected in old fashioned academic Shakespeare departments.
It is not only the undergrads who benefit. The Globe is now in its third year of an English Department Master's programme in Shakespearean Studies, run jointly with King's College London. An innovative course developed by Dr Gordon McMullan at King's, and Dr Gabriel Egan at The Globe, the MA is now firmly established as an academic favourite for students from Britain, America, Japan, in fact all over the world. What unites all these educational benefits under the thatched roof of the Globe? For Spottiswoode there is no doubt it is the "added value of the soul of lively action".
Spottiswoode describes the overarching theme surrounding all his work at the Globe with this slogan, "Lively Action". This ethos involves trying to excite the student, from nursery to postgraduate level, about the process of theatre production and not just finished text. And where did "Lively Action" come from? "From John Marston's letter to the reader in The Malcontent." Marston chose to use this preamble to apologise to his 'reader' that the play had been published at all! It was, of course, written to be spoken, and all Marston can hope is that the reader can remember the pleasure it once afforded when it was presented -- 'with the soul of lively action.'
Even though the Globe is traditionally dark in the winter months, that doesn't prevent Spottiswoode from organizing an indoor season of 'Read Not Dead' performances, using professional actors, and staging plays that might never see the light of performance day. With Sam Wanamaker's death in 1993 -- the man who Spottiswoode describes as the most "lively active guy" of them all, and the inspiration behind the whole Globe project -- it became obvious that actors were being brought in to "endorse the product". Actors were invited to hang around cocktail parties trying to drum up corporate interest. "This is not what actors are best at -- not what their biz is" declares Spottiswoode. Starting with a reading of Westward Ho!, and with a cast headed by Tim West, Sam West and Prunella Scales, the 'Read Not Dead' project is recalled by Spottiswoode with amazement: "All of a sudden people were queuing round the corner," eager to watch actors reading playtexts of obscure forgotten plays with only a few hours preparation, and absolutely no pay. The season now regularly attracts full houses, from the early modern play fanatic to those who love the friendly intimacy and lively danger a staged reading exudes.
Another reason for performing these neglected plays is something close to Spottiswoode's heart. "I was fearful that the Globe was becoming Shakespeare-centric". In fact, he has always consciously shied away from referring to the theatre as 'Shakespeare's Globe'. "It's a misnomer" claims Spottiswoode, who saw the whole Shakespeare industrial bandwagon as potentially hijacking the Globe project. "Even travelling up the M40 you pass a sign which says Warwickshire -- Shakespeare's County!". "Shakespeare has been put in a palace of high art". It is the Globe's project to turn this high art palace into a "people's palace", where all ages and backgrounds can experience the wonder of "play", just as they did four hundred years ago. "This is our theatre, it is an unthreatening welcoming space".
But back in the late 1980s marketing advisers were telling the theatre that unless they added the name 'Shakespeare' to the Globe, noone would come to Bankside, "and if they did, they might think we were advertising a pub". It was thanks to the generosity of the owner of the Globe Theatre in Shaftesbury Avenue, Janet Holmes A'Court, that the Bankside Globe has achieved its amazing public profile. "We are always grateful to Janet for renaming her theatre the Gielgud Theatre, so freeing the title for Globe enterprise".
As for the future? Again with evangelical glee -- perhaps the influence of his solicitor turned preacher father and an opera singer mother -- Spottiswoode describes the links with the world via the internet and Globlelink. "Here is a website where anywhere in the world you can log on to see and hear interviews with actors". The Globe believes in global outreach. If anyone leaves Patrick Spottiswoode less than a believer, they have failed to fall for the effortless charm of a truly committed 'custodian' of a memorable, invaluable part of the British theatre scene.
Kevin Quarmby © 2003