Peter Eyre languorously tucks into his toasted cheese panini, snatching a lunch break between rehearsals of Trevor Nunn's latest production at the Old Vic, Richard II. Just down the road from the Vic, in the ubiquitous Starbucks on the Waterloo Cut, Eyre oozes humility and charm in abundance. This is an actor with years of theatrical and filmic experience, at home as much with Shakespeare as with his beloved Ibsen.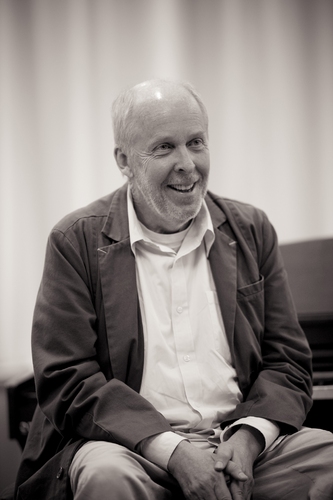 This very afternoon, "a stagger through" is planned. Eyre looks somewhat bemused as I ask if he is excited or nervous at getting to grips with his character, the aged brother of John of Gaunt, the Duke of York. "Actually, I know some actors search for their parts when rehearsing -- as for me, I hope it doesn't sound arrogant, I just assume I am York ." It certainly doesn't sound arrogant, just refreshingly honest and remarkably professional. "There's nothing like getting in front of an audience, though -- in a long play like this, it is only with repetition -- actually getting a complete run in front of people -- that you feel in total ease with the part."
Eyre is, of course, no stranger to Shakespeare. Several appearances at the RSC have honed his craft. "In fact," he muses, "I first worked with Trevor thirty years ago at the RSC -- a production of Hedda Gabler -- with Glenda Jackson. This is the first time we've got together again since then. Not that I haven't tried to work with him!" Eyre's eyes sparkle with schoolboy humour as he recounts that Nunn " nev er asked me until now -- I thought he didn't like me!"
Nunn's rehearsal technique is already a topic of conversation amongst the Old Vic staff. Overheard at the stage door are comments about the secretive nature of the rehearsal rooms, ind ustrious work behind strictly closed doors. "Most directors don't like people in a rehearsal room," Eyre explains, "it's very intense in there -- that comes from Nunn -- he brings so much energy to the rehearsal process -- he's quite unique as a director -- it energizes us too."
Hints of the intensity and concentration which are demanded of Nunn come from Eyre's description. "Trevor's very used to directing lots of people -- in big musicals, in operas -- he loves fielding a large cast. Some directors when faced with roomful of people adopt a look of panic. Not Trevor -- he thrives on it." The result: "Oh, there are lots of sets -- this is going to be a real show -- very visual."
King Richard himself is played by the overall artistic director of the Old Vic, Kevin Spacey. Although a veteran movie star and an accomplished theatre performer in his own right, Eyre thinks that this is Spacey's first professional appearance in a Shakespeare play. "Theatre is much more Kevin's medium. He reminds me of Olivier in many ways -- a bravura actor/performer with tremendous command of the stage." The fact that Spacey is not "a lyrical actor -- not like Gielgud -- gives a fascinating dimension to his portrayal of Richard II." It is also important to note the intense effort Spacey is making to create a "generic English sound -- Richard Chamberlain succeeded many years ago with his Hamlet -- Kevin's accent is just as good."
Hints as to the production spill from Eyre's sonorous tones. "We spent the first week of rehearsals really getting to grips with the tex t -- with the verse. Nunn is a master of Shakespeare and Shakespeare's language -- at times I felt like an honoured student. That first week we did workshops in the sonnets, in prose speeches and couplets. Years ago at the RSC most of the actors will have worked with Cicely Berry and John Barton -- all would have the same skills, the same grounding."
Nunn's intention is obviously to bring together an understandably disparate group of actors and create an artistic uniformity and quality. "Trevor is very practical -- born of a certain expertise and thoroughness -- some might say academic or pedantic. Really, it is much more subtle than that -- it's like having to adapt a musical performance -- you can't pay Bach the same way you play Wagner. Trevor makes people very aware -- aware of what Shakespeare is doing in a speech -- how his use of metaphor changes and adapts with time."
Eyre is almost deferential in his description of Nunn's skills as a director -- there is obviously a deep respect and admiration between these two practitioners. All who saw Eyre in the Sheffield Crucible production of Don Carlos will realise why Nunn rates him so highly. "We think we will be taking Don Carlos out to New York next year -- Derek Jacobi and myself -- that's the plan anyway, you know what it's like -- 'the cheque is in the post' and all that!" "After I finish Richard II I open at the Donmar Warehouse, so I guess I'm pretty busy!"
With the grace of a confident and consummate professional, Eyre takes his leave to re-assume his Duke of York. Secrecy and excitement fill the air around the Old Vic. This is a brave venture for Spacey and a brave venture for Nunn. What is evident from meeting this delightful actor is the energy and commitment that is being inspired in a company drawn together by a passion for theatre and a passion for Shakespeare. Passion -- the perfect antidote for a troubled capital. A play which stages the deposition of one ineffectual leader by his upstart usurping rival. For politics and passion at their best, it has to be the Old Vic.
Kevin Quarmby © 2005