Sir Peter Hall invited the massed ranks of London theatre reviewers and journalists to accompany him on a private conducted tour of the new Rose Theatre of Kingston near the Thames in Surrey. The original Elizabethan Rose playhouse, discovered not far from the Globe in Southwark, has provided the blueprint for this exciting venture in Kingston upon Thames.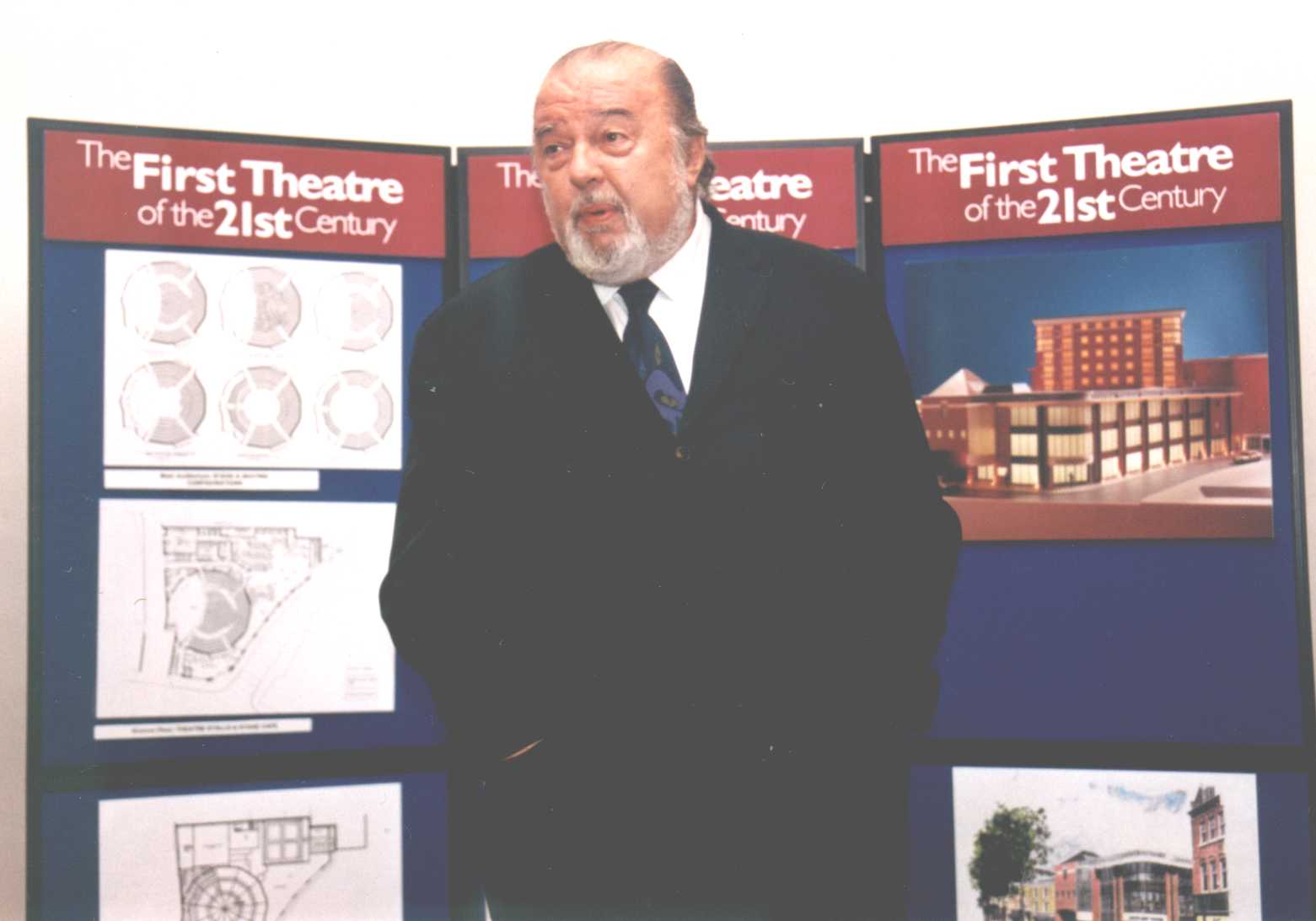 Sir Peter (as the assembled publicity team insist on calling him), swamped by a vast chequered coat and rich humour glinting in his eye, is a wonderful ambassador for this innovative venture. As Chancellor to Kingston University, with its strong commitment to the academic and vocational study of theatre and drama practice, Hall is in the perfect position to enthuse about the social benefits of the enterprise. "We don't want this to be another pre-London touring venue -- another Guildford or Leatherhead -- there is something much more historically specific about this."
Hall describes the sense of awe and elation he felt when standing on the exposed archaeological remains of the Rose in Southwark. "To have stood on and seen the exposed wooden planks of the Rose, preserved in the Thames mud for hundreds of years." When he was approached by Kingston University to join their attempt to recreate a Rose playhouse space, Hall admits he was somewhat sceptical. When he saw the plans and the intention he was, however, completely sold on the idea.
"This was not to be built as some boring replica attempting to follow an original design which doesn't even exist -- this was a plan to build a theatre based on the actor-friendly stage that emerged from the Rose excavations." The Rose proved that for this little playhouse a lozenge-shaped stage was adopted which, as Hall points out, provides perfect sightlines for the audience and prevents those dead forestage acting areas of a thrust stage. "The actors can be seen by everyone on this stage and there is every opportunity to occupy the entire space."
It is this actor-friendliness that Hall stresses, especially as the Rose will double not only as a great performance venue but also as an experimental dramatic resource for academic and practitioner alike. "It proves that the 'oldsters' knew how to build a stage -- it made the academics gulp to find a playhouse that didn't live up to that awful De Witt drawing [a drawing that was so influential to the London Globe's eventual plans]. It isn't like the Swan stage in Stratford either. As beautiful as that building is, once an actor walks to the end of the thrust stage there is nothing left to do but turn round and walk straight back again."
Hall praises the work of Kingston University and the potential for eighteen thousand students who are heavily design orientated and involved in drama, music and modern art. Hall announces the accreditation of the Kingston University postgraduate project, whereby two-year MAs in theatre practice -- whether as actors, directors, designers, technicians -- provide a unique resource. Unique in that, if successful in completing the first year's studies, the entrants to the second year are instantly made members of the professional company under Hall's artistic direction. Postgraduate students will perform in Hall's resident company, directors will assist and designers and technicians will have their talents stretched in that ultimate professional environment. The Kingston Rose and Kingston University under Peter Hall's direction has created the first truly vocational resource for the creation of British drama. It is as exciting as if we have our own Stanislawski school emerging in Kingston town.
Hall stresses that the project, estimated at £11 million, is only half-fulfilled. " Kingston upon Thames Borough Council have given £5 million so far with such great generosity, but we need another £6 million to complete the project." That is why Hall leads us past a building site of a lobby and bar area, temporary loos and notices to don hard hats to view a magnificent stage and a magical space. The seating may be temporary and the walls unfinished concrete but already there is an air of expectant anticipation that the Rose project has the potential for world renown, both academically and commercially.
This is a vibrant new acting environment; it is no museum piece evocation of a lost age but an homage to those pre-proscenium arched playhouses in which our theatre was gloriously developed. With TV and Movie theatres cornering the market of 'framed' entertainment, it is so refreshing to find a return to space and movement, but without the discomfort traditionally associated with an 'old' design. This is 'modern' in its purest and finest sense.
With the potential for a thousand seats and two hundred plus seated on comfortable cushions in a raised groundling area, the Rose looks set for a fine future. Sir Peter Hall's dynamism and passion are infectious. Where better to harness these talents and teach the future greats in performance, direction and design, but in this purpose-built jewel near the Thames in Surrey .
Kevin Quarmby © 2004