You know, it pays to be bilingual these days. "Why?" I hear you scream at your screens. Well, as I stumble for an answer to this glib statement, Sam Alexander is bilingual, and he is doing very well indeed. Alexander is playing the deliciously gormless Young Shepherd in the Shakespeare Globe production of The Winter's Tale. The Young Shepherd who stumbles through life caring for a poor step sister who turns out to be a princess; the Young Shepherd who has the rank of gentleman thrust upon him. I'd call that lucky, and Alexander fits the bill perfectly.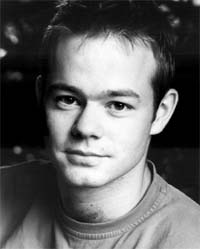 "It's great fun working at the Globe" Alexander muses: "I'm only a year out of drama school and this is my first big theatre production." The drama school in question is LAMDA. Alexander describes LAMDA's recent centralizing move to the old Royal Ballet School premises on the Talgarth Road as "great for the college and great for the students": "I studied at LAMDA on the intensive two year course -- after finishing my bachelor's degree at Bristol University -- French and Drama." So you see, I was right, it does pay to be bilingual!
Alexander explains the reasoning behind his choice of a London drama school. "I'd worked for six years touring outdoor shows in Brittany and I knew I needed drama school. I considered Paris -- or no drama school at all -- but in the end LAMDA seemed just right -- it has a great reputation for physical training." The physicality of Alexander's performance is what communicated so successfully to the Globe audience the evening I had the pleasure to review this fun and energetic production.
So what about the Globe space, I ask? "It's wonderful -- and warm": "At first I was all nervous about it -- but once I was on stage -- it allayed all my fears. From the audience's point of view the stage looks huge, but when you're on stage, looking out, the whole space seemes smaller -- the back of the galle ry seems closer." For Alexander, the hardest space to reach is the back of the ground floor or lower gallery: "I'm really conscious of the people sitting there -- it's hard to connect with them." I explain that that is often the home of us hardened reviewers and it's good for him to consider our feelings.
As for the acting space itself, was that hard to get used to? "I really enjoyed the challenge -- especially as you have the groundlings right in front of you and they're really up for it -- really willing you on. Of course, it's not all plain-sailing -- and it's a real challenge to address everyone and not just the groundlings. My colleague, Paul Jesson, who plays the king Leontes, says it's not hard to address the upper galleries, but it's alright for him -- he's a king and can hold his head up high -- I'm just a lowly shepherd so it takes more effort!"
"The most exciting thing is realizing that you can, as an actor, turn around on stage -- turn your back on the main audience -- and include all the people sitting round the sides." I ask how the rehearsal space impacts on performance? "It's ind oors of course, but taped out for the dimensions of the stage. There are two eight foot high pillars in the rehearsal room so we know what to expect on stage." Those pillars have always posed a problem for sightlines, and it seems obvious from this description they are as important for the actors and director as the direction of the entrances and exits.
"We had to do some re-rehearsing of various scenes when one of the company fell ill for a bit -- back in the rehearsal room. It's fascinating, I was aware that I was using part of the rehearsal room stage space right up against the wall or in the corner -- the edges of the real stage -- places I'd never have known to use during the original rehearsal process before we'd actually performed." As for the vocal requirements of the Globe: "It's really vocally friendly -- there's never the need to force the voice -- it's almost deceptively easy to reach the audience."
Alexander is back in the rehearsal room for another production: the original pronunciation Troilus and Cressida. Alexander is playing the Prologue and Patroclus in this latest attempt to recreate an 'original' sound for a Shakespeare play. "It sounds really amazing when we do it -- there's a really discernible accent -- sort of a cross between West Country, Irish, American, Northern English, Norfolk and, certainly in my case, a bit of Jamaican too!" Alexander admits he's not sure where the Jamaican has come from. "However much I try it still sounds Jamaica n to me, but nobody seems to mind -- or perhaps they haven't noticed!"
The project began with a few performances of Romeo and Juliet last year, and with the academic support of David Crystal who supplies a "phonetics for actors", is set to bring new light to the "sound" of Elizabethan and Jacobean English drama. Purists might baulk at this attempt to recreate the unknowable, but Alexander explains that there are so many hints in the rhymes of Shakespeare and his contemporaries. "We have the accents out of the way now, and we can, after three worrying weeks, now get down to the performances."
Alexander is as enthusiastic about this latest project as he is about the whole Globe experience. "Definitely come and have an earful of Shakespearean English -- it's no more difficult to understand than any dialect you haven't heard before -- and it's such a funny play -- a rarely played play." Of course we will be there. Who knows, perhaps Alexander will slip in some French with his Jacobethan/Jamaican. It pays to be bilingual these days.
Kevin Quarmby © 2005