"Maria is one of those parts that can be played by any actress, whether a sixty year old in a hairnet or a saucy young minx. I guess I'm something in between." So says Samantha Spiro during a break in rehearsals for the latest Donmar West End offering shortly to open at the Wyndham's Theatre, Twelfth Night. No way should this dark and vibrant actor ever be forced to don a hairnet. So, saucy young minx it is.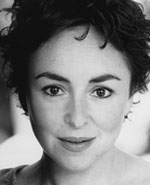 Spiro and I sit in the rehearsal room at the Jerwood Space. The floor is taped out with the barest schematic representing the Wyndham's stage, a straggling black line indicating the forestage and the position of the proscenium arch. Eagerly, Spiro points to the colour photographs of the set which cluster on the wall behind the director's chair. A cut-out figure of an actor is all that hints at the minuscule scale of the original model. A portion of brightly 'distressed' louvered panel rests beneath the photographs, a solid three dimensional reminder of the dominant theme of the final set.
"There's only one major piece of furniture," Spiro explains, pointing to a chaise longue in the corner. "The play is very much set in a world of its own -- a sort of period feel -- but somewhere free from being too definite." The louvers evoke a very Mediterranean Illyria, residing "in an indefinite period somewhere around the thirties." The director, Michael Grandage, and his designer, Christopher Oram, have created this very fluid time and place for one of Shakespeare's best-loved comedies.
To my comment that the set seems very sparse, Spiro announces that "it frightened the hell out of me when I first saw it -- as an actor you feel so exposed -- but now, four weeks into rehearsals and I feel liberated by it." Spiro has already had experience of working with Grandage, playing Titania in A Midsummer Night's Dream and Celia in As You Like It.
What is different fro her about this experience, however, is that Twelfth Night is playing not in the intimate space of the Donmar, but on the Wyndham's stage. "Oh, but it's lovely to play comedy with a pros arch," Spiro explains, discussing the unusual benefits of performing in a less intimate space: "It so adds to the comedy -- it focuses the audience's attention on the specifics of the comedy -- on the glances between two people."
"As for Maria," Spiro adds, "its very obvious that she's one of the household staff. Chris didn't go for an archetypal English or French maid, but her status is recognizable all the same." There is a glint of risqué charm as Spiro describes her character's association with the less-than-sober Sir Toby Belch. "It's a fairly full-blooded version of their relationship which shows the pair falling in love and getting married. In fact, the couple seem to be getting off on gulling Malvolio and Aguecheek -- it sort of gets their blood going."
The 'Maria love-interest', or should it be 'lust-interest', is played by Ron Cooke. "Ron is certainly not the typical choice for Sir Toby," Spiro explains, "but there's nothing in the play to say that he's a 'big fat old bloke' -- he's just a 'drunk'." Spiro expresses her obvious delight in working with Cooke when she adds that "Ron can really rock-and-roll with [Sir Toby]."
So, a Toby who is more lush than lard, a Maria whose sexuality is sparked by the misfortune of the pompous and the ludicrous, and a Mediterranean world which seems slowly to be rotting into the setting sun of 1930s Europe. Fascinating. What seems even more fascinating, however, is the timing of the Donmar venture into the West End. Spiro remarks that the company are very aware of the lessons learned by the Ivanov experience. Wyndham's has been playing to capacity audiences, all eager to enjoy great theatre at a bargain price. The £10 ticket scheme has been an absolute success.
Even so, West End venue does not mean West End budget. Indeed, the cost of these productions is little more than a standard Donmar offering. "We can't have a lavish West End budget when the seat prices are so subsidized." Still, as Spiro points out, "the timing is brilliant. No-one thought that we'd be heading into a recession when the season was first conceived. But now, two people can come and see a great West End play for £20 -- surely most people can at least afford that over the Christmas period?"
Twelfth Night, Christmas cheer, and a price which isn't going to break an Icelander's bank. You know what? It's worth it just to glimpse Samantha Spiro's Maria in action.
© Kevin Quarmby, 2008
Part of the Donmar West End Season, running at The Wyndham's Theatre (0844 482 5120) from 5 December 2008 to 7 March 2009. See Twelfth Night website.