Stephen Unwin is energized by the unexpected panic of rehearsing an understudy for Juliet in his latest touring production of Romeo and Juliet. Due to open at the Oxford Playhouse on the 15th October, the cast are reeling after Laura Rees recently slipped from the balcony mid-performance. Unwin is genuinely concerned at Rees's pain and discomfort and now has to rebuild the company around Davies Grey, a 'workshop leader who knows the play backwards', as she steps into the tragic teenager's role.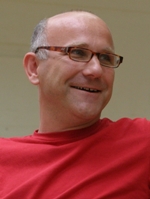 To other directors this would appear daunting. To Unwin it is another challenge in a career which he himself bemusedly admits 'shockingly' spans twenty years. This is also Unwin's tenth anniversary as the founding artistic director of the English Touring Theatre, a company which sees its educational programme as a vital part of its dramatic remit. An educational programme intended to overcome the ossification of Shakespeare in Britain 's school system, and to open the eyes and ears of a twenty first century public to the beauty of the written word.
Unwin self-deprecatingly describes his 'simple and simple-minded approach' to the plays he directs as focussing on the 'play as it is written'. In fact, he believes 'ninety-nine percent of my work has already been done by the playwright': 'It is my job to blow away the clichés and received views -- the overbearing tradition that has grown up around the plays.' This approach enables him to lead his actors into a 'direct and simple engagement with the writer and the writing.'
Unwin's group of actors are led through a process of textual discovery. The first week of every new rehearsal period is spent reading and re-reading, discovering and rediscovering the text. 'Understanding the text is vital -- how it is working -- how the language and the story combine on a human scale'. Describing the 'endless search for characters' by certain actors as often needlessly 'forgetting the writers', Unwin is adamant that 'all characters are only as detailed as the writer has made them.'
The search for what is 'vivid and particular' in a play is also fascinating for a director renowned for the clarity of his productions and an attention to detail which he laughingly puts down to being an 'hysterical perfectionist'. Hysterical or no, anyone who has seen the recent productions of King Lear (National Tour and Old Vic) or Hamlet (National Tour and Donmar Warehouse) knows that apparently effortless 'perfectionism' is the keyword to productions which bring Shakespeare's language to life with vibrant immediacy.
English Touring Theatre succeeds where so many fail. Is this down to an educationalist's slow and erudite rendition of the lines? 'No', says Unwin, 'I've recently seen a very worthy production where the delivery of each word was laboured and slow -- where they thought they needed to explain every word': 'There's a strange paradox here, because this production depended more on the director and the designer -- on effect. Our plays are different. Of course the actor has to know what he is saying, but we also rely on speed, directness, simplicity of means.' Unwin sees getting inside the words as the best route to getting inside the character. Only then, and with as much clarity as is humanly possible, can the actor present the play in an excitingly dynamic and forthright way which captures the imagination and takes the audience on a roller coaster ride of a story.
What about Romeo and Juliet -- how has this production approached a play which so many believe begins and ends on a balcony with moon-struck teenage lovers? 'It's quite a shock to those people who don't realise there's so much more to this play'. Unwin believes the difference between the rival families is vital to understanding the conflict between men and women, rich and poor, that underlies the play. 'The Capulet marriage is certainly not an ideal of romantic love, with a scornful wife, hints of infidelity -- the play highlights two opposing views about relationships -- a combination of relativism and realism.'
Unwin's realization that the play is 'more than just love scenes -- it's more a working class play, with more scenes about servants and ordinary people than aristocrats' betrays what he calls his 'Brechtian tradition'. 'Deep down I come from a Brecht tradition -- its too easy to lose the dialectic if it is ignored': 'The poor musicians left onstage at the end of the funeral show Shakespeare being a realist. An aristocratic girl may be dead, but their are repercussions for the ordinary people as well. No money means no food.' Unwin's tradition ensures that he approaches Romeo and Juliet with what he describes as 'dialectical realism -- no, better to call it "dramatic realism".'
The dramatic realism that identifies conflict and diversity in this Shakespearean romance tragedy also impacts on the design of the play. Set in late 1940s Italy , Romeo and Juliet is consciously aware of the post-war Italian neo-realist tradition in film. 'It was an extraordinary period in Italian history' says Unwin. A time of discord, a divided nation, of extreme poverty and starvation, yet a world where the Catholic Church was strong and important, battling against the old Nazism and new Communism in a desperate attempt to retain influence. 'It's a terrible piece of evidence, but in Naples in 1946 it's estimated that one in ten women between the ages of 15 and 60 were actively involved in prostitution -- just to survive'.
Romeo and Juliet fits effortlessly into this modern timescale. But Unwin has never shied away from period costume and design. 'Sometimes it can be a boring and irritating problem' says Unwin, describing the pros and cons of costume drama. With pragmatic glee he tells of the inevitable predicament of staging Romeo and Juliet in authentic fifteenth century high Renaissance costumes -- 'Men In Tights!'. Speaking to his costume designer, he realised they needed fifty five costumes to stage the play. 'At £1000 per costume, the realization that I could make the actors look fabulous in 40s outfits for a fraction of the cost had to be taken into account.' He admits it may be a negative reason for modern dress, but it's a negative reason bolstered by an intelligent rationale and common sense -- and it works.
Of course the actors and their skill are vitally important to Unwin. Romeo and Juliet is such a young play, it requires a large number of young, and necessarily less experienced, actors. This is a challenge that Unwin relishes, seeing his role as much as a teacher as director, nurturing the spoken word and offering new talent the chance to explore what he believes is fast becoming a forgotten, and untaught, art. 'The young actors learn from the more experienced, like Michael Cronin and Marjorie Yates -- it's wonderful to watch'.
What do you hope your audience will take away from this exciting production? Unwin's reply is simple but heartfelt: 'I want them to see a play that is fast -- and enjoyable -- and rich.' To that list I'd add clear, because English Touring Theatre is actively reawakening a whole generation to Shakespeare, and its clarity of performance is a joy to behold. My conversation with Stephen Unwin, like his dream for the play, was also 'fast, enjoyable, and rich'. With such energy at the helm, the future for this exciting company looks assured. I can't wait to see the production myself.
Kevin Quarmby © 2003