The Pit Bar at London 's Old Vic is buzzing with post-matinee punters. Children excitedly hide from worried mothers; grandparents rest their weary limbs, and all are talking about the pantomime they have just seen. While laughter and fun and musical revelry is conjured on the Old Vic stage, in the roof-top rehearsal space behind the fly tower three American actors are rehearsing the next offering of the Old Vic company under its new artistic director, Kevin Spacey. National Anthems by Dennis McIntyre is a play set in late 1980s suburban America . Its promotional material describes it as a 'raw, shocking and darkly comic play' which is 'at once a critique of suburban values and a hard-hitting parable about America n materialism'.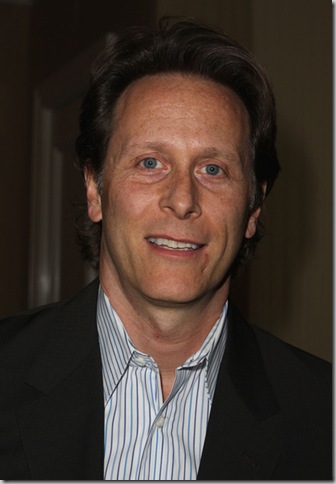 Down the elegant winding staircase comes Steven Weber, one of the three American cast members, tired but energized by the day's intensive rehearsals. We sit beside a baby grand piano, supping our still mineral waters, and discuss this innovative venture for the Old Vic. "How would I describe this?" muses Weber, "oh it's definitely ARt, capital 'A', capital 'R' and small 't', just to confuse your readers". Now I know this is going to be a fun interview.
When asked about National Anthems itself, Weber adds his own impressions. "Myself and Mary Stuart Masterson play an archetypal American couple in a lonely marriage. We're obsessed with material objects just like everyone in the late 80s. Then a stranger moves onto the block and our lives are permanently changed". Kevin Spacey plays the stranger, Ben Cook, a part he has already taken at the Long Wharf Theater, New Haven . Weber adds that "the whole play happens in real time, it follows one day of these people's lives, but we've been told we mustn't give too much away!".
Weber is keen not to spoil the surprise of a narrative which teems with contemporary satire of the obsessive consumerism that the 1980s personified in suburban Detroit , USA . "I remember the bumper stickers at the time" muses Weber: 'He Who Dies With Most Toys Wins'. It is into this social environment, this atmosphere of spend, spend, spend, in which your value as a citizen depends on the newness of your possessions and the ostentation of your lifestyle, that Weber's onstage persona Arthur Reed confronts his nemesis.
I ask Weber about the author, Dennis McIntyre, who my notes show died in 1989, shortly after completing this longer version of a 1960s workshop production. "This play is firmly rooted in the 1980s, after the peak of Wall Street greed -- and the scandals of corrupt businessmen whose excesses eventually led them to prison". McIntyre plotted this period, and who knows how he'd have developed and commented on the 1990s and 'noughties' if he'd survived.
What about the character of Arthur Reed himself, how close is that to Weber's own personality? "Arthur is a typical stressed American husband --- childless". I ask about Weber's biography, which credits him with playing the neurotic Leo Bloom in the Broadway version of The Producers. Weber is adamant that in National Anthems, his character is certainly not "milk toast": "There's too much dark humour in the play for it to be called comedy -- of course inadvertently there are comic moments -- any extreme behaviour in people brings that -- you know, I'm not sure whether people will feel waves of uncouth laughter or waves of disgust". Whatever the post-play analysis, Weber assures me the audience will know they have seen a "deep" play: "It's certainly not a good play to take a first date" he ironically suggests.
Weber is no stranger to British culture. "I married an English girl and she's now head of news in Los Angeles -- she may be American now, but she's fiercely nationalistic -- if I'm disparaging about British food or the Queen, her hands go into a tight fist -- I always say she's reclaiming the Empire one husband at a time". Obviously a family man with "two little boys, four and two", Weber has moved the whole family over to London for the four month contract at the Vic. Weber's excitement when he mentions the Old Vic is tangible. He really is so proud to be working in such history: "Goddammit Olivier and Richardson played here!!!".
The rehearsal process has had some exciting moments for Weber too. "By the end of the first week we were almost completely off the book". I suggest that this may be because so much time needs to be spent by the British actor getting into the American psyche before rehearsals can begin in earnest, whereas a cast of three native Americans can bye-pass this problem: "No" says Weber, "It's strange for us in the States too!". Weber expresses his admiration for the British director, David Grindley: "David is so involved with the rehearsal process -- he won't sit back, put his feet up and let it happen -- in fact his feet are constantly tapping along to the rhythm of the play -- he's like a conductor". It is this brave and difficult step to be so soon off the book that ensures that the actors can be "as truthful and as energetic as the play insists upon".
Weber's own theatrical background stems back to a father and grandfather who were both New York theatrical agents, and a mother who sang and danced as one of the original Copacabana Girls. "I cut my teeth on TV commercials -- went to the New York High Scholl for Performing Arts -- you know, the Fame school -- and then after years of successful TV work I found the relative poverty of the theatre". Weber is humorously self-deprecating about his "mostly forgettable" TV career, but this belies the huge critical acclaim he has received for his dramatic theatre work over the last few years. "TV in America is so overrun with reality shows -- it's a living nightmare out there -- aarrgghh!" (I ask if I can quote him -- verbatim -- on that last remark).
So, what does National Anthems have to say to its British audience in 2005? "The play was intended to hold up a mirror to the American people -- get them to question their own values -- their own ideals". Weber is obviously a political animal. "We've not been able to express ourselves for four plus years now -- there's a suppression of criticism and self-expression over there -- people with opposing views were allowed to pose them before, but now that's been virtually quashed". According to Weber, National Anthems "has so much to do with the expression of power -- how the soul can be lost when in pursuit of too much power and wealth -- hell, people in power are having to be prompted to help the victims in the Far East -- reminded to be human, or humane or humanitarian": "That is what's so disturbing about today, and that's what National Anthems taps into -- it's subversive theatre".
Weber leaves to return to his young children and wife before the next gruelling day in the Old Vic rehearsal rooms. His evangelical passion for National Anthems is infectious. Such energy, such commitment, deserves good audiences at the Old Vic. This is a slice of American pie with bite; I can't wait.
Kevin Quarmby © 2005