The ruggedly handsome Tom Burke takes time off from intensive rehearsals to discuss the latest venture at the Donmar Warehouse. Playing Adolph in August Strindberg's less-well-known 1888 play Creditors (in Swedish, Fordringsägare), Burke quietly discusses this new version written by David Greig and directed by Alan Rickman.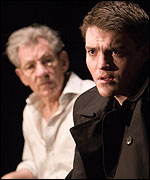 "It's a play about human relationships," Burke explains, considering his comments carefully and thoughtfully. "It's about ownership within a relationship -- about personal history. We all tend to think about who our other halves have been -- we have a curiosity, an obsession often, especially when we are in a relationship with someone else."
It is obvious that this subject, universal in its appeal, is also one which deeply, viscerally affects Burke and his interpretation of his role. "When you are with someone (and I am no different), and you are apart for any length of time, it's like half of you is missing -- like half of something can't function without them. We share lots of different, repeated things -- that's our 'shared ownership'. Creditors is a play which explores the problem of where you, the individual, end and where you, the partnership, begins."
Appearing as he does with two other actors, Anna Chancellor and Owen Teale, Burke explains how this three-hander play is an exploration of how each character copes with the problem of relationship 'ownership'. "The play has consciously been set in the period for which it was written," namely the 1880s, "although this should be regarded merely as the backdrop to the narrative. The dialogue has retained a flavour of Strindberg's time."
This 'flavour' is, however, in contrast to David Greig's masterful adaptation which, in Burke's words, has injected "an immediacy" into the dialogue. 'Immediacy' and 'meaning', as Burke admits, can bring their own problems. "Different words, different inflections from Strindberg's time, have different resonances today. Some words, even whole phrases, have now become so colloquial -- street-wise sounding -- that Greig has had to make adjustments so as not to sound too modern."
"David was with us for the first week of rehearsals," Burke adds, having already rehearsed for four weeks. Greig's active involvement from day one ensures that Creditors remains the playwright's "reinterpretation of a one-hundred-and-twenty year-old text," which retains its period feel whilst speaking evocatively to a twenty-first-century audience.
Light-heartedly, Burke comments on the original background to Strindberg's Creditors. For a play which considers 'ownership' and the loss of 'self' in all relationships, it shouldn't be surprising that Strindberg made little attempt to hide the play's overt comment on his own broken marriage and subsequent divorce. "Strindberg seems to have portrayed himself in all three characters," adds Burke, "although principally it appears to be an act of revenge against his first wife."
Conflict, relationships and revenge are the stuff of good drama. Of course, it must not be forgotten that Strindberg had also, only a few years before, been forced to defend himself against an official charge of blasphemy in the Swedish courts. Bitterness against his detractors and against his ex-spouse must have added to the artistic cocktail of his dramatic output.
Burke continues by explaining his own role, that of Adolph. Adolph is a painter who has decided to change creative direction and become a sculptor instead. Adolph, whose wife has disappeared for a while on a trip, is left alone in an hotel. His loneliness and the fact he misses his wife so much leaves him vulnerable to the influence of another visitor to the hotel, Gustav.
As Burke suggests, "Gustav becomes Adolph's mentor, and Adolph happily hands over control to this external influence. It is like playing a certain part of myself except times ten," Burke admits, freely describing his own propensity in the past to "throw everything at the other person in a relationship." It is a brave actor who admits so close an affinity to a character. It is even braver to recognize, as Burke does, the universal "archetypes" which all three characters represent for us all.
Describing the opportunity to work with Alan Rickman, Burke explains that it "is not the first time I have worked with an actor/director." The benefits? "Definitely, an appreciation of where you are at any moment in the rehearsal process as well as a sensitivity to the journey you must take. Alan is wonderfully aware of pace -- nothing is papered over -- nothing is left out or, more importantly, put in for effect."
Rickman's directorial style obviously influences the way the three actors develop their understanding of the complicated relationships they must portray. "Alan has such a fantastic understanding of theatre, and why it's different from film. In the theatre every thought has to be 'on the line'." I ask Burke to explain what he means by 'on the line'? "I mean, you're not playing reactions in pauses [as in film] but reactions in words." This naturally adds its own dynamic to theatrical performance, which acknowledges that "at times a silence is just that -- a silence. Alan just brings a phenomenal understanding of the rhythm of things."
An appreciation of Rickman as actor/director also comes with experience of working with writer/directors. Burke explains the difference, with the writer/director "often giving every line such weight," especially as they are, quite rightly, their own creative invention. By contrast, Rickman as actor/director recognizes how "sometimes the weight of line comes not from being stressed, but from it being thrown away. It can be this 'throwing away' of a line which makes it compelling to watch and to hear." Without a writer's possessive concern for each word, the actor can explore the exciting possibility of passing half-heard remarks ringing loud and clear in any narrative flow of dialogue.
Creditors is set to be yet another great adaptation of a classic writer's text brought bang up to date by David Greig's dramatic skill. In the hands of three talented actors and an equally-talented and responsive director, this exploration of 'emotional ownership' and control from one of the great writers of the late-nineteenth century is set to stimulate as much discussion and debate as it undoubtedly did when first performed all those years ago. The Donmar Warehouse continues to amaze those who recognize the bravery of its repertorial choices and the variety and quality of its successes.
Kevin Quarmby © 2008