This Remembrance Sunday, 9 November, the main stage in Studio 1 of the Trafalgar Studios hosts its own Eloquent Protest III, described by its creator and director Caroline Clegg as 'a powerful piece of theatre fusing music, poetry and drama.' Following as it does on the equally successful Eloquent Protests of 2006 and 2007, Eloquent Protest III includes an eclectic cast of actors, poets, musicians and singers, including the ever-popular Janie Dee, all giving their time freely with profits going to the international humanitarian aid organisation, Medecins Sans Frontieres. This self-confessed 'artist's response to the price of war, which honours the fallen and counts the cost of their sacrifice,' is hosted by that veteran peace campaigner and retired Labour MP, Tony Benn.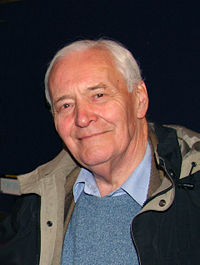 Tony Benn kindly takes time off from a remarkably hectic schedule for any political activist, let alone one born in 1925, to speak about this venture and his involvement with it. "I first heard of the production three years ago when it appeared at what I remember as the Whitehall Theatre," says Benn, adding how impressed he was with this "powerful presentation and the power of its message for peace on Armistice Day." The situation of the old 'Whitehall Theatre', now renamed the Trafalgar Studios and part of the Ambassador Theatre Group empire, is not lost on Benn, who recognizes the symbolism of a venue so close to the Cenotaph and the site of the traditional Armistice Day commemoration parade.
"Between 1914 and 1945, one-hundred-and-five million people died in two major conflicts," explains Benn, with the specificity of a political historian. "Armistice Day commemorates this, and has traditionally been a military occasion, with soldiers and veterans laying wreaths." Benn sees Eloquent Protest III at the Trafalgar Studios as an opportunity to make the Armistice Day event "more meaningful for future generations and for the future of peace."
No stranger to presenting his message of 'Peace' in an artistic medium, Benn explains his own history of collaboration with the folk singer Roy Bailey. Having seen Bailey's work back in 1976, Benn describes how Bailey's mixture of folk music and historical comment seemed in perfect harmony with his own desire to educate people in their radical political heritage. Whether highlighting the Peasants' Revolt of the 1380s or the Leveller demands of the 1640s, Benn and Bailey's subsequent live shows, called The Writings on the Walls, provided the opportunity for people to "learn their own political genealogy."
With Bailey singing and Benn providing the "words," their performances became very popular, even wining the BBC Radio 2 Folk Award for Best Live Act 2003, an honour which Benn accepts with pride and some bemused good humour. More seriously, Benn explains the wider importance of their collaborative efforts, whereby people could appreciate "that earlier generations have said exactly the same things as we do now," a fact which allows "people suddenly to realise they are not alone." Benn and Bailey performed an extract from their show for last year's Eloquent Protest, their message sitting comfortably in what Benn describes as this very "moving, very powerful" enterprise which provides a "forward look on Armistice Day and a way of looking forward to peace."
This year, however, Benn is hosting Eloquent Protest III without his folk-singer friend who has commitments elsewhere. Nevertheless, it still gives him the opportunity to express ideas about which he has been passionate for his entire adult life. It is the immediacy of the event which appears to excite him most, especially the chance to stand up in front of a group of people and express thoughts about "peace and public protest." Explaining that there is something unique for an audience to "look a public speaker in the eyes -- to see if the speaker means what they say or are simply reading a prepared speech -- that is a vital element of democracy."
The "vitality of discussion," the freedom one feels to discuss and to comment on matters which affect us all as individuals and collectively, is the true mark of democracy according to Benn. Eloquent Protest III is an instance of this 'vitality' in action, usefully packaged within an artistic whole which crosses the boundaries of polemic to touch the emotional soul of its audience.
There is, of course, no denying the importance of 'protest' in the event's title. For Benn, 'protest' is an adjunct to change. "How has it ever been done in the past? The Tolpuddle Martyrs and the trades union movement -- women getting the vote -- the abolition of apartheid," all these changes relied on 'protest'. Benn remembers speaking not far from the Trafalgar Studios in Trafalgar Square itself, back in 1964. His speech, "supporting a man branded a South African terrorist," was denounced by the establishment as dangerous radicalism, a far cry from the elation with which that same man, Nelson Mandela, was received in the same London landmark in 2005.
Change is, Benn argues, always going to come through "people from the bottom pushing up." We learn from the great "teachers" from history, he explains: "Moses, Jesus, Mohammed, Marx, Darwin, Freud," all spring to Benn's mind as significant figures in the quest for change. Change does not come overnight, however. "You have to be patient -- and im patient at the same time," Benn adds, admitting that "people do get discouraged" by the slow pace of change. It is the apparent 'slow pace' of change and our collective 'discouragement' which is the principal method with which "we are controlled" by those in ultimate power. Perseverance, determination and courage are the requirements of all who wish to break free from this control.
As if in prelude to the performance, Benn recalls his personal reaction to first hearing the Charter of the United Nations, a Declaration first made in London on 12 June 1941, though heard by him for the first time on a troop ship heading back to the UK in 1945. With the gravitas of a Shakespearean actor, Benn recites the opening lines of the Declaration: "We the peoples of the United Nations determined to save succeeding generations from the scourge of war, which twice in our lifetime has brought untold sorrow to mankind, and to reaffirm faith in fundamental human rights..." The words of the Declaration are permanently etched on Benn's heart. It is with regret, therefore, that he recognizes that everything the Declaration stands for -- the quest for fundamental human rights and peace, for unity and the minimum use of military force -- has still not fully been embraced by subsequent generations.
Without resignation but with real anger, Benn observes that we must "realise it has happened again -- every generation fights again and again." There is, nonetheless, a far more frightening dimension to this new manifestation of international warfare and destruction. "I have ten grandchildren," begins Benn, "and they are part of the first generation able to destroy the human race. Whether with chemical or biological weapons, today's generation has the money and the technology to make humanity extinct."
There is hope for this technologically-equipped and capable generation. "Money and technology can also solve the problem of world poverty -- young people need encouragement." Certainly no Luddite, Benn embraces new technology (even if, occasionally, he needs one of his grandchildren to "press a couple of buttons on his laptop to get him back online") and recognizes its potential for disseminating good as well as evil.
It is obvious that these same grandchildren are ever present in Benn's thoughts. Discussing how normality for one generation might be considered strange for another, Benn describes how "normality for anyone is what the world was like the day they were born." For Tony Benn, the world of his birth was one of British Empire and post-war-to-end-all-war demands for peace, when vast swathes of imperial red covered the map of the world. "Now, when my grandchildren go to school they mix with seventy-seven other nationalities -- you can't tell them anything about multi-culturalism."
It is inevitable when discussing a production with the title Eloquent Protest III that the present conflicts in Afghanistan and Iraq are foremost in Benn's mind. Peace campaigner and activist Benn might be, but as he reminds me, he also served in the RAF during the 1939-1945 War. "It's a great mistake," he notes, "to think the military want wars -- they don't want wars." With some pride, he recounts an invitation he received to speak at the Defence Academy Headquarters at Shrivenham. Rather than being eaten alive, his comments were received with respect and admiration. "It is one thing to die for one's country," a prospect Benn proved he has been willing to face, "and quite another to get hooked into a helpless war like Afghanistan."
A helpless war, as recently-returning commanders might agree, but one which Benn claims is not the fault of the army. "It's not the army, it's the politicians -- the politicians use the army as a shield." He remembers his own active service, and that daily mantra to "roll on the boat," providing the safe return for all fighting men to their homes and loved ones. Benn expresses a great respect for the armed forces, especially those wounded in active service. "People who have served their country deserve proper treatment -- they deserve to be respected as individuals."
It is this sense of respect for those in the front line, combined with a dismissal of those who, for whatever reason, put them there, which adds such integrity to Benn's call for peace. Remembrance and realization. Eloquent Protest III will, it is hoped, provide a fitting tribute, not just to those who have given their lives in the service of their country, but for those who continue to serve and will, in the future, serve. It is a clarion call for us all actively to engage with debate and to question the motives of those who purport to act on our behalf in matters of security and state-sanctioned violence. We must be, as Benn reminds us, 'patient' and 'impatient'' in equal measure. Eloquent Protest III honours the fallen. At the same time, it begs us never to forget the human cost of war and the ultimate sacrifice we all must pay in perpetuating its horrors.
Kevin Quarmby © 2008
ELOQUENT PROTEST a human response to war returns to
The Trafalgar Studios for the third time on Remembrance Sunday,
9th November 2008 at 2 pm.
Former MP and veteran campaigner Tony Benn will once again host this afternoon, presented by artists giving their time freely to explore the power of words and music against the cost of war.

For the first time this year the event will be held in the much larger Trafalgar Studio One .
All profits go to the international medical and humanitarian agency, Médecins Sans Frontières.
Tickets are £15 (war veterans free) and are now available from the Box Office at Trafalgar Studios
Box Office is now open on 0870 060 6632
Group Bookings 0870 060 6644
or online at www.theambassadors.com/trafalgarstudios