A shaft of moonlight pierces the Elsinore gloom, its steeply-angled beam illuminating the crouching figure of the famous young prince. His face turns to the light. It is a face full of anger and defiance and bitter remorse. So begins the Donmar West End production of Hamlet at Wyndham's Theatre.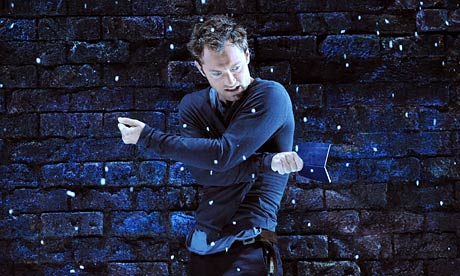 From then on, the play remains firmly entrenched within the black granite walls of the Danish castle. Two turrets upstage, with single wooden doors on each, flank an upper space which is occasionally filled by a huge pair of rough-hewn wooden sliding gates, one side of which providing another strategically-inserted entrance into the defensive structure of this vast medieval keep. Sun or starlight penetrate through tiny windows in doors, or from far-off skylights, evoking the passage of time according to their strength and intensity and ensuring that actors move in and out of luminescent pools of light with ghostlike ease.
This cold, dark world is peopled by a group of Danes, the homogeneity of whom makes any differentiation of rank almost impossible. Only the king, Claudius, corseted in his high Nehru-collared black suit, seems a cut above the rest. His new wife, Gertrude, is forced to stride in voluminous trousers and nondescript blouse. Something is obviously credit-crunched in the state of Denmark.
When, therefore, Prince Hamlet is revealed in his undifferentiated Danish household, his dishevelled appearance is hardly worthy of note. Untrussed prince and courtly Polonius appear equally egalitarian as if performing in twenty-first-century rehearsal gear. Grey and black are obviously the order of designer Christopher Oram's day. The only splash of colour in this monochrome world is a purple flower in Ophelia's hair. The symbolic state of the nation is nevertheless highlighted by the pure white costumes and shoes of the travelling players as they enact The Mousetrap.
This bleak, black/grey world is the brainchild of Michael Grandage, who has directed a good workmanlike production of Hamlet, one which will cater to the more conservative elements in the audience. Attracting, as its star Jude Law undoubtedly does, a younger less Shakespeare-savvy audience, this version is certainly clear if a tad unexciting. Clarity? Good. Unexciting? Not so good.
Where, then, does this production succeed and where does it fail? Its success rests firmly with Jude Law's performance. The critical reception of Law was bound to be tinged by comparison with Tennant's superb Hamlet for the RSC in 2008. Although inevitable, it is also unfair and unnecessary. This is Law's interpretation, and a very interesting and valid one it is too. Law presents a prince who is obviously feigning madness. Law's Hamlet is petulant, angry, ironically comical and prone to large expressive gesturing with the hands and arms. It is a Hamlet whose fists are forever bounding at his forehead or whose fingers point accusingly at his enemies.
When Hamlet confronts his nemesis at prayer, a strategically-placed spotlight casts an enormous shadow of the prince, hand clutching his dagger and ready to strike, which looms over the left shoulder of the unsuspecting Claudius. It is as if the ghostly message of Hamlet's father is insufficient to make the young prince attack, especially as his own introspection and erudition overshadow his every move. Procrastination rules.
Similarly, the "To be or not to be" speech is delivered by a shivering, barefoot, breast-hugging prince, who shuffles uncomfortably through the falling snow of a Danish winter. Pondering on mortality, this prince is suffering both mentally and physically. It is the tangibility of Hamlet's pain which this scene so graphically expresses.
Jude Law gives a fine performance as Hamlet. It is a youthful, knowing, playful prince who embarks on his tragic journey. When, having received the poisoned stroke from Laertes, Hamlet finally succumbs to its blood-benumbing power, Law offers the most convincing death as his guts spasm, he jack-knifes back into Horatio's waiting arms and addresses his final thoughts to posterity. No film performance, this death fills the Wyndham's auditorium with intense theatrical loss. A great moment.
Other interesting visual images include our collective invitation to view Hamlet's audience with his mother as if standing with Polonius behind the arras. With voyeuristic discomfort, we join Polonius in spying on their meeting through a huge white gauze curtain which festoons from the downstage flies to the stage below. When Polonius receives his fatal blow it is as if we receive it too. His dying action, to grasp the curtain, leads it to collapse and fall like a vast parachute canopy onto the lord's dead and crumpled body.
Unfortunately, though, for much of the time Elsinore is a bleak and uninteresting place peopled by an assortment of characters who fail fully to engage our interest or attention. Ron Cook is a beacon of light in this group, although his Polonius is a particularly snide and knowing political animal, more pander than pompous ass. No wonder Polonius's children come to such sorry ends.
Similarly, Peter Eyre gives a traditional performance as the Ghost of Hamlet, whereas his Player King becomes a knowing old ham, used to learning lines at a moment's notice and totally unfazed by any new role he has to adopt or adapt. Asked by Hamlet if he can learn some additional dialogue, Eyre's Player King snorts dismissively at the suggestion that he is anything more than a consummate professional.
Kevin R. McNally lacks the sexual energy expected from a Claudius who can so quickly bed the widow of his brother. Likewise, Penelope Wilton, an actor for whom I have the greatest respect, is ill-served in a production which is drained of sensuality. Wilton is relegated to playing a matronly school-ma'am rather than a liberated older woman. Finally, Gugu Mbatha-Raw as Ophelia, although pleasantly-voiced when singing her annoyingly whimsical (and ethereally orchestral-accompanied) nursery-rhyme song of madness, lacks emotional or vocal depth.
Jude Law's Hamlet, as it cannot help but be known, is strong and vibrant and immediate. Following the Tennant Hamlet would never be easy. Law takes the role and makes it his own. What seems lacking is a sense of artistic danger or adventure. This too too solid production will, I'm afraid, provide but a footnote in the annals of Hamlet history.
© Kevin Quarmby, 2009
CREATIVE TEAM:
Director: Michael Grandage
Designer: Christopher Oram
Lighting Designer: Neil Austin
Composer & Sound Designer: Adam Cork
CAST:
Harry Attwell: Fortinbras' Captain/Priest/Cornelius
David Burke: 1st Gravedigger/Barnardo
Ron Cook: Polonius
Ian Drysdale: Osrick/Voltemand/Messenger
Peter Eyre: Ghost of Hamlet's Father/Player King
Jenny Funnell: Player Queen
Jude Law: Hamlet
Gwilym Lee: Guildenstern
Kevin R McNally: Claudius
John MacMillan: Rosencrantz
Gugu Mbatha-Raw: Ophelia
Henry Pettigrew: 2nd Gravedigger/Marcellus/3rd Player
Matt Ryan: Horatio
Alan Turkington: Fortinbras/ Francisco
Alex Waldmann: Laertes
Penelope Wilton: Gertrude