In 1909, at the tragically young age of 37, J.M. Synge died from Hodgkin's disease. In his brief lifetime he had written only six plays. Two years before his death, the most famous of these, The Playboy of the Western World, was presented in Dublin for the first time. It is now being toured to select venues in England, Ireland, and Wales by the Galway production company, Druid. First port of call, the Oxford Playhouse. Lucky Oxford.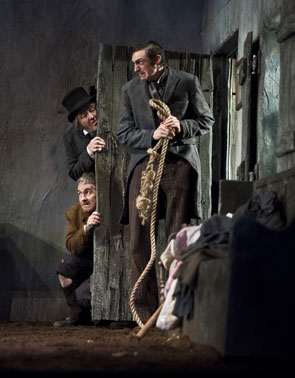 The curtain rises on a scene of commercial poverty. Lit only by a single oil lamp suspended centrally from a cavernous ceiling, a young woman tallies an order for her father's liquid wares. A clock mournfully chimes above her head. It is evening and outside is dark and wild. Inside, an open fire glows. Chairs and tables, a settle, and a flimsy L-shaped bar announce this as the local hostelry. Kegs of ale, a larder full of bottles, and umpteen glasses spilling over every surface, some stacked haphazardly into ominous cubby-holes that pepper the whitewashed back wall. One door appears permanently boarded over. A ladder leans upstage into a raised opening.
Designed by Francis O'Connor, this late-Victorian Irish tavern on the wild and windswept coast of County Mayo is brought to glorious life. It is the domain of one Michael James Flaherty ( John Olohan) , a popular fellow in the village. Popular, because in his establishment the fast-diminishing number of bachelor men and their ever-more-desperate young marriageable women can drown their sorrows in jugs-full of alcohol. Popular, also, because Flaherty's daughter, Margaret (known locally by her paternalized nickname Pegeen Mike), is a young and fiery beauty ready and willing to be wed.
What a shame, then, that the only man on offer is the pious and cowardly Shawn Keogh ( Marcus Lamb) . The only man, that is, until the arrival of a small and dirty stranger. Into this close-knit community a young interloper limps forlornly, boasting his tale of villainous patricide. Christopher Mahon is his name, and all are enthralled by this simple stray, whose murderous deed commands an unusual degree of respect and awe.
Despite his inferior intellect, Christopher unexpectedly excites and beguiles Pegeen Mike. The courting of Christopher Mahon by this fine young woman reminds us of the many young Irish men who sailed away to forge a new life in the Americas, leaving behind only sorry specimens of manhood from which to breed. Courted Christopher certainly is, and not only by Pegeen, but by every woman in the village. No wonder Christopher Mahon soon earns his ill-fitting title, 'the playboy of the western world'.
What follows is a heart-warming love story filled with callous and gloriously gratuitous violence and drunken good humour. Under the direction of Garry Hines, founder of the Druid company, The Playboy of the Western World is recreated in all its Irish splendour. No wonder Synge is hailed as a great Irish playwright. In Hines's hands, Synge is well served.
Hines has brought together an ensemble of eleven actors. Her passion for the play is obvious from its opening moments, as is her attention to detail and joy in the physicality of the performances. Far from caricatures, the actors nevertheless evoke an otherness which could be recognized by any peruser of Punch magazine in the 1890s. Drunken Irishmen and lecherous widows. Foolish young suitors and giggling pubescent farm-girls. All people this world with reality and compassion.
Aaron Monaghan is astonishing as the 'playboy' Christopher Mahon. Monaghan walks as if his limbs are reacting long after his character's simple mind has decided to move them. Gazing open-mouthed at the adoring women who flock to his side, Monaghan's Mahon is a study in manic danger and wild innocence. As playboy becomes plaything, we are treated to a performance of complete physical and emotional commitment and undeniable strength.
Monaghan's love-interest is Pegeen Mike. Clare Dunne commands the stage in what must rank as one of the finest roles for a woman ever written. Pegeen's desperation to love a man worthy her own passionate strength is as painful as her final realization of the truth of her life, trapped in a village world of title-tattle and decay. Ibsenesque in its empathetic portrayal of frantic womanhood, Synge's Pegeen Mike is well served by Dunne who captures Pegeen's hopelessness and the awful blindness of her hope in equal measure.
Derbhle Crotty is a wonderfully sexualized Widow Quinn, eager to get her claws into the young newcomer. Likewise, Andrew Bennett as Christopher's 'murdered' father, Old Mahon, storms into the narrative fold taking the fun and frolic to a new and macabre height.
The Playboy of the Western World is no period-piece production, but a wonderful evocation of a bygone age. Dangerous when first produced in 1907, the play's opening night at the Abbey Theatre Dublin was greeted with riots both during and after the performance. It is obvious why this tale of immorality, gullibility, and crass stupidity should cause such offence to those who might recognize their own village upbringings in its narrative. For a twenty-first century audience, it has lost none of its drive or its passionate charm. Great craic from sawdust beginning to smoky, bloody end.
© Kevin Quarmby, 2009
DruidSynge Website
Oxford Playhouse Website
Cast list
Christopher Mahon: Aaron Monaghan
Old Mahon: Andrew Bennett
Michael James Flaherty: John Olohan
Margaret Flaherty: Clare Dunne
Widow Quinn: Derbhle Crotty
Shawn Keogh: Marcus Lamb
Philly O'Cullen: Andy Kellegher
Jimmy Farrell: Aidan Kelly
Sara Tansey: Gemma Reeves
Susan Brady: Seóna Tully
Honor Blake: Christiane O'Mahony
Creative team
Director: Garry Hynes
Assistant Director: Thomas Conway
Designer: Francis O'Connor
Lighting: Davy Cunningham
Sound: John Leonard
Tour Schedule
6 May - 9 May
Oxford Playhouse
Beaumont Street
Oxford OX1
Tickets: 01865 305305
www.oxfordplayhouse.com
12 May - 16 May
Theatre Royal Brighton
35 Bond St, Brighton, BN1 1SD
Tickets: 0871 297 5454
www.theatreroyalbrighton.co.uk
19 May - 23 May
Richmond Theatre
Little Green, Greater London TW9
Tickets: 0870 060 6651
www.ambassadortickets.com/Richmond
26 May - 30 May
The Lowry
Pier 8
The Quays, Salford, M50 3AZ
Tickets: 0161 876 2121
www.thelowry.com
2 June - 6 June
Town Hall Galway
Courthouse Square
Co. Galway
Tickets: +353 91 569777
www.tht.ie
9 June - 13 June
Liverpool Everyman
Williamson Square
Liverpool L1
Tickets: 0151 709 4776
www.everymanplayhouse.com
16 June - 18 June
Sherman Cymru
Senghennydd Road,
Cardiff CF24 4YE
Tickets: 029 2064 6900
www.shermancymru.co.uk
This review first appeared on the British Theatre Guide.